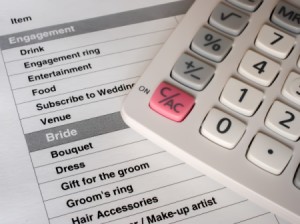 "To have and to hold, from this day forward, for better, for worse, for richer, for poorer, in sickness and in health, to love and to cherish, till death do us part." These words are often part of a traditional wedding vow. So, what do you do if the poorer is now and you would love to have and to hold, from this day forward but you dont have the cash to do so?
Here are six (6) tips to help you plan a frugal wedding to get your marriage off to a richer start:

Wedding budgeting is like any other budget; you have a fixed pool of money that you can spend. There are only two ways to change that fixed amount; either find another source of money to add, or cut items from the spending list. Sadly, it is usually easier to trim your list than to find that extra money. Your first pass should be removing anything that is not meaningful to you or that will be memorable.

For example, if a groom's cake and bride's garter are not meaningful to you, cut them from the list. If having all of your friends at a party is meaningful, that stays. This is your special day and every aspect of the day should be meaningful and memorable to you and your spouse-to-be or it should not be part of the day.

Do NOT open the can of worms. What is the can of worms, you ask? It is easier to give you an example: Say you have five young children in your immediate family that you want to include in the wedding and your best friend is demanding that if your five come, her five come. If you invite these 10 children, and not the other 25 young children in your guest's families, you have opened a nasty can of worms and feelings will be hurt if every child is not invited. Weigh your options; hurt feelings or watch the dollar signs add up times 25. It is best NOT to open these worm cans from the beginning and keep your invitee list as simple as possible. Consider immediate family only (without regard to age) or a category like adults only or no cousins. Ask yourself who you want to attend your event and list everyone, then start crossing off worms or entire cans of them.When creating your guest list, there are many questions you can ask yourselves when adding (or crossing someone off) the list. Brides.com offers nine guests types to eliminate from the start:
Take the something borrowed part of the tradition (something old, something new, something borrowed, something blue) seriously. Borrowed or pre-owned items can cut the cost of your wedding significantly. Gowns, suits or tuxedos, shoes, flowers, table attire, bridesmaid dresses, rings, and just about everything but the food and drinks can be borrowed, rented, or purchased pre-owned and no one will know but you. Search your local Next Door website, LetGo app, Facebook Marketplace or even eBay or Etsy for low-cost wedding items that fit your theme and colors. Be very aware of shipping costs when doing online sales so you dont find a terrific bargain and then have to spend oodles of cash to get it. Search out coupon codes when you find items online to rack up even more savings. Two of the more popular saving sites are RetailMeNot (https://www.retailmenot.com/) and Swagbucks (https://www.swagbucks.com/).
Food is a huge expense at any wedding, so think outside the buttered roll and find a meal menu that you can afford. Five-course, sit-down meals and buffets with dozens of choices are nice, but can rack up huge bills. A breakfast wedding can save you thousands in food, and even on venue fees, since some locations charge high premiums for evening events and are happy to offer discounts to book their rooms at off peak times. High tea weddings, with scones, tea sandwiches, and petit fours at a cozy tea house, can make for an inexpensive and glam small afternoon wedding. What do you love? Say you love baseball, think themed event with a local beer, hotdogs, cotton candy, and peanuts. If you are into Halloween, get married in October and have a candy fest reception, complete with chocolate fountains and lollipop centerpieces. Get creative!
Beverages can bust a budget faster than you can say cheers to good years. Open bars with multiple alcohol choices are very expensive. If alcohol is a must at your party, work with the venue to pick reasonably priced drink choices, perhaps beer and wine only or just an inexpensive champagne. If the venue lets you bring your own alcohol and your state allows you to redeem coupons or get rebates on your purchases, shop with savings in mind. If you have wines or beers that are local specialties, contact the companies and see if they will make a deal on a bulk purchase. Eliminating alcohol and sticking to soft drinks offer huge savings. For example, if you are having a breakfast wedding, you can offer coffee, tea, or juice. For a lunch or dinner event, stick with soft drinks like lemonade or iced tea in big pitchers or dispensers to help save on your food budget.
Flowers are beautiful but they can muddy up your budget fast. Steeped in tradition, carrying flowers at weddings stem from a BD tradition (before deodorant) where flowers were used to mask the smell of the couple who were sweaty with excitement. BD, there was no Degree or Old Spice to quell the smell, so flowers were used to stave off the stench. Now that we are AD (after deodorant), people have flowers because they have beautiful, traditional meanings. Roses represent romance, tulips tout love, and daisies delineate new beginnings. If you must have flowers, consider artificial or dried flowers or carrying a single, fresh, in season stem. Don't rule out wildflowers or growing and cutting your own lovely flowers to create custom and meaningful bouquets. You could plant in the spring and harvest in the summer, hours before the ceremony!

If you like artificial or dried flowers, look for coupons from Michaels Stores or Jo-Ann Fabric and Craft Stores and plan your purchases to maximize savings. A bonus of not using live flowers is you can use the artificial or dried flowers for your pre-wedding festivities, at the wedding, and then have a lovely memento for your shelf at home.
Here's to enjoying the first phase of frugal wedding planning! When you and your honey are sitting in the tree "k-i-s-s-i-n-g", remember that "first comes love, then comes marriage." So, if you plan well and don't start wedded life in debt, you can be on good financial footing when finishing that childhood jingle, "then comes baby (or puppy or kitty or goldfish) in a baby carriage."