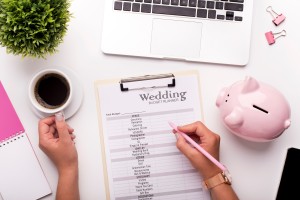 Many brides and grooms get a wedding quote with everything they desire, but it's over budget. 
This is the moment you choose to blow the budget or cut the budget. If you want a nice honeymoon and don't want to be paying off your credit card for a decade and a day, you should try to at least slim down your budget. 
Here are some ways you can do that without sacrificing the beautiful wedding details you have been dreaming of forever.

Prioritize
Make a list of the significant wedding expenses and discuss what is most important to you. Put them in order from most important to least important. For some couples, the food and drink is top of the list. They want their guest's dining experience to be unique and memorable and will spare no expense on the best. For others, music is number one. For some, the florals have to be precisely perfect - peony and white rose perfect!
When you identify your low-priority items, you can consider more affordable options. This might mean changing a vendor. Or it might mean cutting back the hours of service. 

Call In Friends
Look at your wedding guests and see if they have any skills that might be useful for the wedding. Does your favorite Aunt make fantastic cakes? She would probably be honored if you asked her to make the wedding cake. 
Keen gardeners will often have floral skills that could be used for reception table centerpieces or other sweet-scented decorations. These can be made the night before or morning of the wedding to save on the florist bill. 
Sometimes your friends have hidden talents. Does a friend have a secret desire to be a DJ? This might be his moment to live his dream on the day yours comes true too.

DIY
How are your DIY skills? You can save a lot of money by making your invitations, table seating plan and name cards. The cost of all these little details adds up, so you will be winning if you can do it yourself.
We hope these hints help your budget. Keeping to the budget is one of the difficult aspects of wedding planning. From the beginning aims to match your budget and expectations. If you can join those two parts together, you will be perfectly happy on the day.