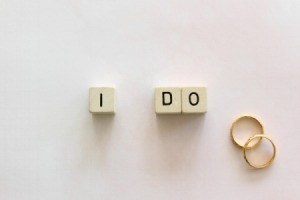 I have been with my boyfriend for about 10 years. We both have been divorced so, we are a little gun shy about the whole wedding thing. We would like to say our vows to each other in private and exchange rings.
I need advise on how to do this up in a very special way. I would like to have family there afterward for a small party. We will actually not be married in the eyes of the law. It's just a thing between him, me, and God. I need suggestions, comments, and advice. Thanks so much.
By ann
Answers

May 22, 2010
0

found this helpful
Best Answer
Whether or not your vows are legally &/or religiously recognized is your decision, of course. You're asking for ideas regarding the private exchanges of promises & rings, & a get-together afterwards. Here are a few thoughts from personal experience (I'm a wedding officiant).
One couple hired a small decorative arts theatre, & invited their guests to a Mardi Gras / birthday party for 7pm. Having written their own vows, they read them to each other privately, & offered their rings, all around 6pm, & afterwards exchanged a champagne toast to each other & their life together. The caterers providing the toast had been hired to cater a buffet table set up for the later party. At some point, when everyone had arrived & were enjoying the appetizers & drinks, the couple had a friend announce that the celebration was also in honor of the couple's wedding which had just occurred. Nice.
That, naturally, costs more money than many could afford. So here's another idea, a take-off on what my late husband & I chose:
We legally married on a Saturday in our home, all very laid back, in the presence of 2 witnesses. The next day we had what we considered our "real" wedding in a small Moroccan restaurant that closed for the occasion. For $20/each for about 60 guests, we all shared a 7-course meal that lasted about 3 hours. Just piped-in music as the restaurant would usually provide. At least that's the general outline of what happened.
The final thought is of the couple who rented a hillside from some sort of nature sanctuary. For $150 total cost, they had its use for the ceremony, & use of its barn afterwards for the party. Their invitation had requested that each guest "make their presence their gift", & please bring a covered dish. Again, this goes only a short way of describing their event, but perhaps it might spark some ideas of your own.
Hope it helps. If you need any ideas of writing vows &/or ring givings, you can contact me at bsvgs @ yahoo . com. Really, I'm not soliciting work, just some help.
Good luck to you!
Nica

May 26, 2010
0

found this helpful
Best Answer
Hey guys! Thank you all so much for your suggestions, comments and advise! It has really helped a lot. You have made me see, that you're right when it comes to us marrying. Think I'll back off this idea. Some of you made me feel pretty stupid! :( acid annie! Thank you girl!

May 20, 2010
0

found this helpful
What better place to meet up with God for this discussion between the 3 of you than out in nature?! If you have a nice park in your area with a shelter that can be reserved you can have your family and friends meet there at a designated time while the two of you arrive 30 minutes earlier and take a walk to a more private area to exchange your vows.

May 20, 2010
0

found this helpful
If you and your boyfriend have been together for l0 years and you still don't want to marry each other don't be a fraud and go through a ceremony for show because God won't honor that and it is a waste of both your money. If you don't trust each other now you never will and this extra money won't make it any better. Sorry, but you asked and I figure you wanted the truth. I have done it before and for whatever you think this will solve it won't. Just get married and sign prenuptials if you are so wealthy you're afraid he'll take it or both of you.
I got married 20 years ago for the 6th time and have never regretted it and the benefits are that if you get sick terminally or he does they don't just take him and all your stuff away from you, but the way it is now you can't make choices for him if something happened to him that he couldn't make for himself only the court appointed person could, but as his wife you have more choices. Check out these things before something happens to either of you and you find yourself hurting.

May 25, 2010
0

found this helpful
She didn't ask for your opinions on her relationship. If you can't say something nice...
People will always do things you don't agree with/don't understand. There's no reason for you to belittle them for it.
Ann, I'm following your feedback because I have a similar question, so thanks to those who posted constructive feedback. :)
We were thinking of doing ours in the same hall we have the reception (or basically just a gathering of friends and some family), but the nature idea sounds good also. Some/many officiants will officiate for commitments as well as regular marriages, so check out theknot.com for officiant listings, or you could have a friend do the ceremony since it is not legally binding.
You can look online for some ideas for "Scripts" also if you should need that. I have collected quite a bit of info myself on that. If you'd like to send me a message on here, I can share some of those as well.
Good Luck!

(Guest)
Gold Post Medal for All Time! 846 Posts
May 25, 2010
0

found this helpful
Since you're both afraid to get married to one another just give your 'I Love You's' to each other each and every day and have a party to celebrate your ten years of living together with friends and family.
I do so hope you will keep fuzzytufts advice under consideration about the lack of rights of not being spouses though! Beyond many other legal ramifications you can't even visit in a hospital room under some circumstances unless you are married or a family member.
AcidAnnie, Ann asked for: Suggestions, "Comments and Advice" in her request. People are going to assume that this means they can say what they think and how they feel and I don't believe any of the comments were meant to be belittling but rather from their heart and life experiences.

July 6, 2011
0

found this helpful
Fuzzytufts. They could choose to make each other their power of attorneys instead of husband and wife, therefore giving them each the right to make medical and legal choices for each other in the event something should happen.
Answer

this Question