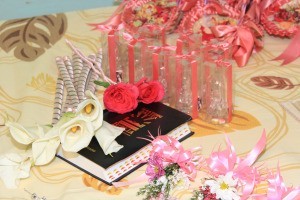 Way back in 2016, I was a sister who had nothing to offer to my "groom to be" brother. They had planned for a themed wedding, but due to budgetary constraints the couple was not able to provide and perform a hundred percent of what they actually wanted to happen. So, here comes the DIY sister offering a big hand of creativity.
If you're curious as to how I made this wedding happen with a limited budget, well, I really applied so much effort to it - that's the greatest secret ever revealed! Almost everyday, since I knew I was gonna play a big role in this wedding, I dedicated all my time and effort to it. The result does not really look as grand as anyone could expect it to be, but at, least I made it possible for them and I was able to contribute to my brother's big day.
Food, dresses, and venue were all fixed. The problem was the decorations, souvenirs, and invitation cards and the money left seemed to be not enough, so that's when they needed me most. I was so concerned about them paying too much for the making of invitation cards and buying ready made souvenirs which are all double priced. So, I told my brother to hand me the budget and I would take care of everything.
I started planning which are the cheapest, but durable materials to use. With the approval of the couple, I bought the chosen tools and created samples to suit their satisfaction. The tarpaulin was designed by me and I went to a friend to have it printed. Next, I bought the wedding favor figurines and decorated them myself. I created the invitation cards with my bare hands and with the help of a niece I was able to make floral crowns as headdresses for the bridesmaids. I bought 3 sets of 24 pink butterflies for the decorations which fit perfectly with the pink flowers and the cherry blossom tree I placed in the venue. From the amount my brother gave me, I was able to return 1/3 of it.
For them to save up the supposed payment for the flower arrangements, I volunteered myself to fix from the bouquet to the decorations. I started it just the day before the wedding day. I was not in the entourage, but I was behind the cameras to make the program possible and draw a big smile for this lovely couple.
My point in sharing my own experience is that there are many ways to make things possible. Money is just money and it can't stop you from doing something you like when you possess a great determination to fulfill your wishes. Plan everything based on your budget and find the best alternative with the thought of saving extras as much as you can.
Here's a glance at my brother's wedding.