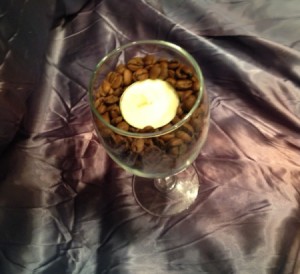 Theme weddings are all the rage and notoriously expensive. With a few creative substitutions, you can have a theme wedding that wows without the pow of the post-wedding credit card blues.
Glam Weddings
Glam weddings evoke images of gobs of roses, oodles of lace, and unlimited champagne in crystal glasses.
Fresh roses are traditional for a glam wedding, but at upwards of $20 a dozen, they can put a thorn in the side of your budget. Artificial roses can glam up your bouquets and centerpieces and save money.
Once you have your color scheme picked, do a quick Google search for bulk artificial flowers. The best deal found in my search is a vendor selling 100 five-inch, fabric white roses for $36, or just 36 cents a stem. Depending on the fabric of the flower, if white is not your color du jour and you are comfortable using fabric dyes, you may be able to dye the flowers in your wedding colors.
You can have some fun and save even more green if you and your bridesmaid have a centerpiece and bouquet making party to create gorgeous, custom, glam bouquets and centerpieces.
If you are not creative, check out YouTube for how-to videos. This one has a fun and frugal theme with a stunning result:

Lace and glam weddings go together like pink and champagne. New lace tablecloths and runners can run up to $20 a piece depending on the size. To avoid putting holes in your budget, ask family members and friends if they have vintage lace tablecloths or napkins taking up drawer space that you could borrow for your big day. Not only will that save you money, but can add sentimental pieces to your special day.
No lacy family heirlooms? You can shop online sites like eBay and Etsy for lace, but avoid using the term "wedding" in your search. Better to check out listings for vintage lace tablecloths or estate lots of lace runners. People who sell online love using buzzwords to markup items for weddings. You can often find great deals by shopping without the wedding label.
Be sure to read the ads carefully to make sure you are getting what you want and that the postage isnt over the top expensive. Be sure to ask questions about things like stains and if the seller is a smoker as stains and stale smoke smell are not welcome wedding guests.
Bonus savings can be yours if you are game for a little special cleaning treatment. Yes, there is a cost to buy the cleaning supplies, but sometimes you can pick up lovely lace with stains for pennies on the dollar. If you a bottle of Oxiclean and bottle of Zout stain remover, you can often remove old stains from these vintage lovelies.
I have had the best luck following the directions of both products and hand washing the items in a bucket doing one or two pieces at a time depending on size. Never dry the items in a dryer. Instead, dry them outside in the sun. The combination of the washing and the sun helps fade and remove old stains. It may take two or three treatments, but you can often restore the original beauty to these vintage pieces. If you choose to clean old lace items, be sure to have a frugal plan B in place in the event that you can't remove the stains. This means planning ahead so you are not scrambling at the last minute to find a glam lace stash.
Sparkling wine (since a true French champagne may not be in your budget) can send your budget into a drunken stupor if you are not careful.
If you must have sparkling wine at your reception, consider saving money by having the sparkling wine be the only alcohol served. If you choose this path, talk to your wine sellers or grocery store and see if there are local products that can be purchased in bulk, at a discount.
There are many recipes that you can use to create two specials, sparking drinks; one spiked and one not. This three-ingredient recipe from Ocean Spray makes a delicious punch with or without alcohol. In a clear glass flute, it looks like a glam pink champagne.

An extra frugal budget tip is to stock up on bagged cranberries when they are on sale (from Thanksgiving to Christmas). They keep in the freezer for up to 12 months and, since the recipe calls for them frozen, you can go from freezer to punch bowl for a budget saving glam wow!

Customize Your Wedding Theme
What if the dozens of internet suggested theme weddings give you the ho hums? Create your own theme and wow your guests!
Start by thinking about the important milestones in your relationship and a theme can be born organically.
Say you and your spouse-to-be first locked eyes over a cup of coffee at breakfast time in a little boho coffee shop. You can turn your magical moment into a memorable theme wedding. Heres how:
Think about all the things that these three key words evoke to your senses:
Coffee is aromatic, warm, rich brown color, cozy.
Breakfast is fragrant, warm-from-the-oven cinnamon buns with creamy icing or a warm bagel with a generous smear of cream cheese.
Boho is soft, flowing fabrics, colorful wildflowers, and interesting family heirlooms tucked into corners waiting to be discovered.
You have just created a custom wedding theme; Beans, Breakfast, and Boho Love.
Coffee (Beans) with their rich brown color, can be a great background palate for everything from your table decorations to your hot or iced breakfast beverage of choice. Coffee prices can get crazy high, but you can calm your budget by starting with the beans and using them in multiple ways.
If you have a restaurant supply store nearby, you should be able to buy bulk buckets of coffee beans, for as low as $3 a pound.
You can create coffee bean table decorations for pennies using the beans and a variety of pretty clear glasses, cups, and even vases. If you don't have enough glassware in your cabinets, see if you can borrow some from friends and family that can be returned after your reception.
Be on the lookout for the best prices for tea light candles and buy enough to fill your glasses. Our Big Lots store recently had 100 white, tea lights for $5. If you want a color candle, shop right after a holiday and you can often find holiday color candles at up to 75% off regular price.
Pour enough coffee beans in each glass, filling them ½ to ¼ inch from the rim. Press a tea light candle in the center, and voilà, boho beauty is born!
If you want to create tablescapes, you can make additional candle holders by varying the size of the glasses. If you want to add flowers, fill clear glass vases with coffee beans to keep the stems of your flowers in place.
Be sure to save enough beans to grind and brew for your party! Endless pots of coffee can keep your guests up and dancing for hours!
Breakfast weddings with fancy quiches or buffets overflowing with waffles, bacon, biscuits, eggs, and sausage can weigh your budget down fast. Weave your boho theme into breakfast by having trays of giant, gooey cinnamon buns, rustic bagels and cream cheese, and cute cookies shaped like coffee cups and iced in your wedding colors.
You and your bridesmaids can use this simple cookie recipe to bake cut out cookies (coffee cup shaped cookie cutters can be found online or even in some big box stores for under $5). Buy your butter, flour, and sugar before a major holiday like Christmas or Easter, round up store coupons for extra savings, and freeze all of the ingredients until baking day!
This recipe bakes up six dozen yummy cookies:

Serve your spread from wicker baskets set on tables draped in airy and inexpensive table runners made from lacy cheesecloth or vintage, colorful, sheer flowered scarves.
If you want to double up on your boho/beans theme, you can purchase white cheesecloth by the yard and use it with a pot of extra strong brewed coffee to create a one of kind table runner using tie dye techniques. Brewed coffee is a great dye!
All you need is the cheesecloth, a bucket of extra strong, brewed coffee, and rubber bands, and you can dip up boho creations for your tables. Not sure how to do tie dye. This video makes it easy:

A bonus budget benefit about breakfast weddings is many venues will offer discounted room rates for your reception. A fancy hotel or hall that would be out of your budget if you had a Saturday afternoon or evening wedding, may become budget friendly if you book it for a Saturday or Sunday morning, especially if it is in their offseason. You may realize additional savings if you could to celebrate your special day on a weekday morning. Ask the venue coordinator how you can realize the most savings.
Boho or Bohemian can get pricey if you start down a Pinterest path of decorating. So many options from rooms overflowing with colorful flowers, crochet and macramé wall hangings, and expensive oriental rugs runners to walk down the aisle and your budget can spiral up into the stratosphere fast. What is a budget-friendly, boho couple to do?
If you are a gardener, consider growing a garden full of wildflowers for your wedding. If you can plan ahead you and purchase seeds at the end of the previous growing season (priced at 50 to 75% off of original price) and plant the following spring, you can harvest your beautiful bounty the morning of your summer wedding.
No green thumb? Talk to your local community leaders and see if there are wildflowers in your local parks or lands that you can gain permission to harvest for your special day. If you have a garden club in your town, perhaps they can help facilitate a wildflower harvest.
If you have your heart set on oodles of crochet or macramé wall and chair decorations, and an oriental rug runner to glide down the aisle on, see if you have these items in your families basements or attics. If not, shop your local thrift stores or put wanted ads on your local Next Door or Craigs List to see if people will give or lend you items for your party.
Whatever your theme, your wedding can be memorable, meaningful, and budget-friendly with a little thought and few creative substitutions.
Best wishes to you both!