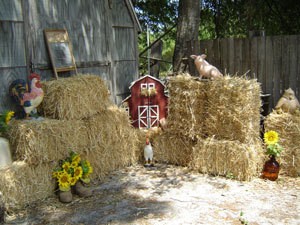 Here's an eyesore made into a photo op. This ugly storage shed was in the yard where I had my wedding. With some hay bales, country collectibles, and fresh cut sunflowers I had a great background for pictures. It tied in just right with my country wedding theme too!
By Robin from Clyattville, GA
I'm trying to help a young couple on a tight budget plan for an outdoor mid-July Texas wedding (sweating already). It will have a country theme. Any ideas or suggestions would be greatly appreciated.
By twinkletoes from TX
Answers
March 11, 2011
0

found this helpful
Best Answer
The bride could wear a white sun dress, with the brides maids in colored ones. The flowers could be daisies. The groom and best man and ushers could wear black jeans, white western shirts and hats and bolo ties. You could use square hay bales as seating. Muslin strips tied in bows (old sheets, maybe) to trim trees/fences, tables covered in brown paper with bandana print napkins. My cousin had this type of country wedding, and the reception was a cook out with salads, baked beans, hot dogs and burgers. It was in the groom's parents" back yard, and was in central New York in August. Very memorable and enjoyable.
March 14, 2011
0

found this helpful
Best Answer
22 years ago we had our own small country Texas wedding on a tight budget. I wore my moms dress after a few alterations, had my relatives bring cookies and punch for us, and made our own bouquets. In the spring we found wild growing grapevine, cut long lengths and soaked it in a galvanized tub of water to soften. Then we wound it into wreaths and tied each one win a little wire.
Then decorated them with silk flowers. Each bridesmaid carried one as a bouquet and we also used them as pew decorations. We had BBQ, beans and brownies at my parents backyard after the light reception at the church. Everything was simple and sweet and we got lots of compliments for not spending a ton of money we didn't have.
Answer

this Question

...
I am getting married June 11th 2011, in the evening. I am wanting the theme to be a kind of country redneckish theme. I come from a small town, so I would like it to feel small townish. Any ideas for food, decorations, invitations, after party or anything else would be helpful. Thank you so much.
By lindsey from Rogers, AR
Answers
October 21, 2010
0

found this helpful
Best Answer
Don't know how redneck you want to get but you could put a couple of smudges on the envelopes of the invitations and write on the back, "This envelope was clean when it left my hands." Use an old, beat up pick-up truck (toy) as your cake topper. You could ride in on a tractor, if the wedding is outdoors. Have your guests come in redneck costume. Have your Dad stand next to the preacher with a toy shotgun during the ceremony.
October 21, 2010
0

found this helpful
Best Answer
How Redneck do you want to get? You can use hay bales for seating, lots of camo, or John Deere seems to be popular nowdays. BBQ for the food, wild flowers in beer cans with raffia bows tied on them would be cute centerpieces.
Answer

this Question

...