I would like some ideas for a Breakfast at Tiffany's themed bridal shower. Thank you!

Jenn from Orlando

Answers:
Ideas for Breakfast at Tiffany's Bridal Shower Party
Hat boxes for decorations. You could put a stack of different sizes arranged on the buffet table. You could have the top one open and fake pearls hanging out of it, etc.

You could also fill one hat box with (uncooked, white) rice and paper clips and one handkerchief. When the time comes to play a game just take off the lid, blindfold the player with the hankie and have them put has many paperclips as they can find into the lid of the hatbox in 60 seconds. The winner wins a prize (the hatbox maybe?). This is much more difficult to play than it sounds! (12/29/2004)
By suzie
Ideas for Breakfast at Tiffany's Bridal Shower Party
Oriental Trading (http://www.orientaltrading.com) sells packets of big fake rhinestones that you could scatter on the table, or tuck one inside a tiny diaper favor to indicate who wins the door prize.

If you could find some really long cigarette holders and candy cigarettes, that would be fun. See who can keep the thing in their mouth the longest.

Invite everyone to wear all their rhinestone jewelry at once.

For the above rice game, rhinestones instead of safety pins would be cute, or find those candy rings with giant "jewel" suckers that kids get such a kick out of.

Good luck! (12/29/2004)

By Coreen Hart
Ideas for Breakfast at Tiffany's Bridal Shower Party
Check the dollar store for some Audrey Hepburn style sunglasses. Those would make great party favors. (12/30/2004)

By ThriftyFun
Ideas for Breakfast at Tiffany's Bridal Shower Party
Hi Jenn,

Lo and Behold ! ! ! ((~.~))**

Wal-Mart has those wonderful Breakfast at Tiffanys sunglasses for $5.00

Only in black and tortoise shell but what the heck !!
Have fun.....
elle ("L") (02/26/2005)

By elle
Ideas for Breakfast at Tiffany's Bridal Shower Party
I just planned a Breakfast at Tiffany's themed event and thought I'd share some of the things we're doing.

First, for invites, we're making ones with a simple logo of the large hat and sunglasses w/ lips on the front and on the inside putting "You're invited to a party Dahling" as the title and at the bottom we're requesting that she wear a black top. A photo from the movie would also work on the front of the invite.

For food, we're doing breakfast items, some ideas are croissants, ham and cheese, mini pancakes. For dessert, we're having a cake made with just a black and white photo of "Holly" imposed on it.

For activities, first we bought a bunch of accessories (this can be just for the guest of honor or all of the guests, depending on your budget)...tiaras, fake eyelashes, pearl necklaces with brooch, cigarette holder (http://www.allcostumes.com/item.asp?item=N0708) ...also, long black gloves would be a nice touch. Anyway, we are surprising her with the items and then will proceed to put our hair up and put on all the accessories...we think this will be a really fun, girly thing to do together.

Next we're doing what I call a cigarette holder race, where we will have the girls push a balloon or round object using only the cig holders in their mouths. You can have a prize for this, but for us, we're allowing the winner to add additional beauty tips to our ensembles...such as eyeshadow, fake mole, etc.

Lastly we're doing a quiz based on the movie, that I put together. If you'd like a copy of it just e-mail me at marilen@akiragraphics.com with Breakfast at Tiffany's Quiz in the subject and I'll send it as soon as I can.

Another idea, which we're actually doing the next day since our event is a sleepover, is driving to our closet Tiffany's and taking a picture in front of the sign much like this:

http://www.glennhubbard.com/jo/wander/3-99mebt.jpg

a great photo op that looks like fun and will be a great keepsake of the event! Well, hope this helps and that you enjoy the ideas!
(05/01/2005)

By Marilen
Ideas for Breakfast at Tiffany's Bridal Shower Party
I am planning a Breakfast at Tiffany's Bridal Shower. Instead of planning it based on Holly, the main character of the movie, I am planning based on the feelings the movie and its' title evokes. Posh, aristocratic, over-the-top elegance.

I have obtained a poster of the movie to hang on the door of the shower site. I have collected silver pieces from second hand stores to use as decorations. A candlelabra, a square silver tray for the "Tiffany box" cake, boxes to overflow with pearls on the guest tables so the guest can dress up and get in on the act. I am also going to wrap packages to look like the "Tiffany Box" and put pearls inside and use them for the centerpieces. These will be given away as doorprizes.

I have a killer brunch menu planned...an elaborate fruit display, with fruit dip inside of a honeydew melon I will decorate with pearls and rhinestones; a breakfast casserole, mini quiches, club sandwiches, and a variety of pastries.

I have also purchased a gift for both the bride and groom from Tiffany's.

I hope these ideas help! (05/15/2005)

By Michelle
Ideas for Breakfast at Tiffany's Bridal Shower Party
Have martini glasses as favors filled w/the signature BLUE jelly beans, also might want to go to Oriental Trading Co.com for some "Audrey Hepburn" style sun glasses...Good luck (01/23/2006)

By Nancy Stilea
Ideas Tiffany Style Bridal Shower Party
Well, we didn't really follow the breakfast at Tiffany's but more the color scheme. We bought Tiffany boxes from e-bay to accent & made a sign in table w/ the invitation framed. The invitation said" With Diamonds & Pearl's she will walk down the aisle, let's help her celebrate Tiffany Style". We chose the tiffany blue invitation w/ white wedding dress. The favors were tiffany blue boxes from Sophies favor's & we put cubic zirconia earrings in each. We used white roses & the vase was wrapped w/ a Tiffany blue ribbon. (02/22/2006)

By Melissa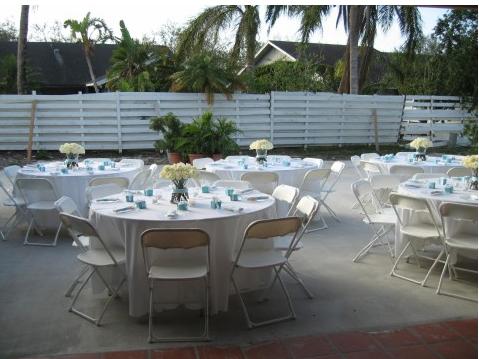 Ideas for Breakfast at Tiffany's Sweet Sixteen
I'm so glad I found this website. We're planning a Sweet Sixteen with a Breakfast at Tiffany's theme.
Everyone's ideas are so wonderful. Our party colors are Tiffany's Blue, Lavendar and Pink, just like Holly's couch. We're also using Chinese lanterns to decorate and animal print like in her apartment. Good luck to everyone. Check out oriental trading for more ideas. They have great prices! (05/14/2006)

By Martha
Ideas for Breakfast at Tiffany's Bridal Shower Party
Asks your gets to wear black elegant outfits with rhinestone embellishments. Also a tiffany box cake is a great idea. You can also play pin the tail on the cat. Also to set the mood play "Moon River" in the background. (02/04/2007)

By Tiffanys<33333</p>

Ideas for Breakfast at Tiffany's Bridal Shower Party
I'm having a breakfast at tiffanys sweet sixteen so here is another idea I used:

send invites in tiffany boxes, pref knife boxes. finish with the white ribbon. all my friends thought it was just adorable. we just went to our local T&CO for the boxes but you could probably find them online somewhere..

hope that helped.. (02/27/2007)

By Jeanne
Ideas for Breakfast at Tiffany's Bridal Shower Party
Check out www.eventsonabudget.com Under Bridal Showers for ideas on Tiffany style Bridal Shower. (04/05/2007)

By Martha
Ideas for Breakfast at Tiffany's Bridal Shower Party
I AM HAVING AN AUDREY HEPBURN "BREAKFAST AT TIFFANY'S" WEDDING. ALL OF MY BRIDESMAIDS ARE IN LITTLE BLACK DRESSES, OUR INVITATIONS ARE WHITE WITH A BLACK RIBBON AROUND THEM. MY WEDDING GOWN IS WHITE AND BLACK SIMILAR TO THE DRESS AUDREY WORE IN THE MOVIE "SABRINA" ON THE TENNIS COURT EXCEPT IT IS IN BLACK AND WHITE INSTEAD OF GOLD. WE ARE ALSO GETTING MARRIED AT THE PAGODA ITS A VERY ELEGANT CHINESE BUILDING AND THE CEREMONY IS ON THE ROOF TOP OVERLOOKING THE RIVER.
THE WEDDING IS GOING TO BE VERY ELEGANT AND CLASSIC AUDREY STYLE. WE ARE VERY EXCITED. GOOOD LUCK TO EVERYONE PLANNING A "BREAKFAST AT TIFFANY'S " EVENT. (06/26/2007)

By K
Ideas for Breakfast at Tiffany's Bridal Shower Party
I loved the ideas I got from this blog. I actually had my friend's shower at a local park. I had the guest line up across the lawn entry into the gazebo. Each person handed her a rose that made a bouquet. I wrapped it with a tiffany blue ribbon. All the guests preceded to the gazebo as she followed. All her guests were able to view her getting serenaded by her fiance'! (This was the surprise factor) He played "Moon River" on his saxophone and wore a tiffany blue polo top and brown jacket.
Our colors were tiffany blue and brown. All the bridesmaids wore outfits in these colors. After his serenade we toasted. But we had to quickly move it to her mother's as a thunderstorm took over the outdoor event. It was still exciting! (08/10/2007)

By Mich
for bridal shower with tiffany theme
I would like to know if anyone has ideas for wishing well theme and center pieces that go with the tiffany blue. She is having that as the color for the wedding and I would like the shower to match.

Any help would be greatly appreciated. (09/18/2007)

By michelle
Ideas for Breakfast at Tiffany's Bridal Shower Party
I just threw a Tiffany shower/cocktail party for my friend.

For favors we filled Martini glasses (dollar store) with tiers of alternating white and Tiffany blue M&M's. The aqua M&M's are perfect Tiffany blue color.

For decorations we had little authentic Tiffany boxes decorating side tables and we painted larger boxes the Tiffany blue color and tied them with white ribbons. We also used authentic Tiffany bags to hold napkins and plastic silverware.

We ordered the cake in the shape of a simple Tiffany box.

We created a beautiful menu so that guests would know what certain drinks were made of and could look at pictures of the drinks. We also used a silver candle holder on the food table as well as tealights and tealight holders on the side tables.

I am actually selling the Tiffany boxes and bags on eBay. Just search "Tiffany Boxes." They were impossible to get from the store. We only got them because a friend of a friend works there.

Check out the pictures: (10/07/2007)

By Jenni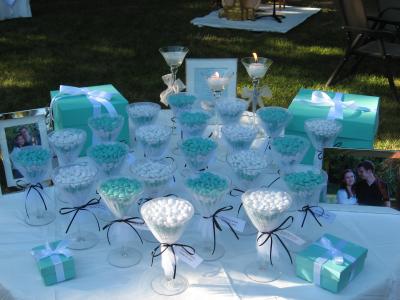 Ideas for Breakfast at Tiffany's Bridal Shower Party
(10/07/2007)

By Jenni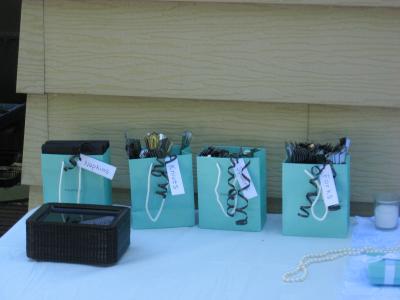 Ideas for Breakfast at Tiffany's Bridal Shower Party
(10/07/2007)

By Jenni