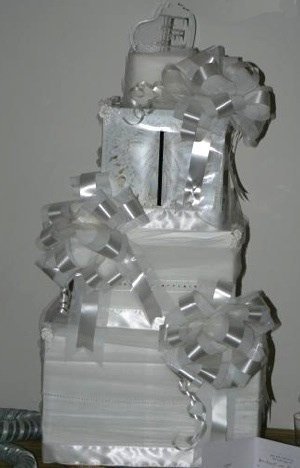 My fiance Ken and I just pushed up our wedding date from November 1st to October 5th. So we don't have a lot of time and most definitely not a lot of money. We just found out that Ken's son has enlisted in the Marines and will be leaving on October 17th.
One of the many ideas I have swimming inside my head was a how can we cut the cost of a wedding cake? So why not a fake 3 tier box cake and then have a sheet (real) cake in the back. The idea is to have a slot on the "cake" and have note cards for our guests to put their well wishes into or they can use it to put their wedding cards. This way we still have the feeling of a cake but not the expense. Here's what I did.
Materials:
1 (top) box, a wedding card box from the dollar store (what a lucky find!)
1 (middle) box, a toy castle from the dollar store (this needed to be put together and was a little bit bigger)
1 (bottom) box, a case of beer that holds bottles (not the one for cans)
3 spools white wire ribbon, from dollar store
15 yards cream tulle, from dollar store
4 packs cream colored silk flowers, from dollar store
3 white pull bows, from the dollar store
glue gun and pins
4 x 4 square craft foam hollowed out at the top. This is to secure the wedding topper and is wrapped with netting.
Instructions:
Cover the beer box with white computer paper. Spray paint the toy castle box white. Stack the boxes according to size, I made sure the slot in the top box faces the front not up. This way I can put a wedding topper on the top. Take tulle and start wrapping snugly from the bottom up until you get a nice smooth look. You also want to cover the top with ribbon the tulle after you get the slot in the box. Kinda play with it a bit to make sure it's all even.
Take the white wire ribbon and wrap around the bottom of the each box and secure with glue gun. I took the silk flowers and put them in the middle of the bottom tier and on the center tier, I found this wonderful ribbon that had our favorite colors in it and centered that on the center tier.
I cascaded the pull bows on each tier. Next to the top bow I'll have our cake topper that has our initials on it and in each bow I'm going to have 2 little charms with my kids names on it and the other bow I'll have 2 little charms with Ken's 2 kids initials on it also. This is our third time around for both of us. :-)
Read More

Comments
I want to make a fake wedding cake for displays. Any ideas?

Diana from South Carolina

Answers
December 29, 2006
0

found this helpful
Styrofoam...go to the craft store. The white kind is sturdy. The green kind that you can soak in water is easiest to carve into unique shapes.
By Grandma Margie (Guest Post)
December 29, 2006
0

found this helpful
While in a craft store I noticed the "unfinished" lightweight cardboard boxes (with lids) in various sizes and shapes......square, round and oval. I got the idea to stack three round ones (in graduated sizes) to represent a wedding cake. I painted them white, inside and out, and hot glued various widths of white lace around each layer and draped and hot glued the small "pearl" rope, which you can buy by the yard, on each layer too. I used this "fake" wedding cake as the container for my gifts to my future daughter-in-law at her bridal shower. I put shredded tissue paper in each box and placed the various gift items on the tissue. On the very top I placed a clear glass saucer which had wet floral foam holding fresh white carnations and baby's breath. I held the boxes and floral arrangement in place with a small dab of the "tack it" stuff kids use to put posters on the wall. My daughter-in -law loved it. She uses the boxes to store keepsakes in now, many years later.
Perhaps some variation of this idea may work for you.
January 2, 2007
0

found this helpful
Traditional bakeries use styrofoam bases covered in, and decorated with, the actual icing that is used on their wedding cakes. It dries, to form permanent displays. If their "icings" are a type that won't dry properly, they use a Royal Icing (egg white based icing) that dries hard. Sometimes these display cakes are iced with a thinned plaster/joint compound, but be careful that it dries white, because they look really bad when they yellow or someone tries to paint them white.
January 4, 2007
0

found this helpful
If you go to a craft store that carries Wilton products, they sometimes also carry styrofoam "cakes" in all shapes and sizes. The styrofoam is more like the kind they used to make coolers with - not so porous. I found this out the hard way, when I was asked to make a display wedding cake, and bought styrofoam circles from Michael's and had to glue numerous ones together to make a full layer. In all, I used about 12 pieces, in 3 sizes, when I could have bought 3 pieces in the heights I needed. Live and learn! I did mine in Royal Icing, which hardened almost immediately, so work quick, but to this day, the hotel is still using that cake! they keep it refrigerated to be safe, but it has stood up beautifully. Good luck!
By Sharon,Ky (Guest Post)
February 27, 2007
0

found this helpful
A funny story I HAVE to share!When my Daughter married last year I baked her wedding cake.Along with all the other chores to be done I was running on a tight schedule and didn't get it baked until 2 in the morning of the wedding,and the top layer hadn't baked completely when I started decorating. In tears I vowed I wouldn.t be defeated. I iced the pan of the top layer(which wouldn't have been eaten anyway!!) and instructed the girl cutting the cake to take it off discreetly before cutting the other layers.HEY---you gotta do what you gotta do!!! No one at the reception but me and her knew the difference!
October 25, 2018
0

found this helpful
How to make fake foods like, tomatoes, corns, eggplants, onions, oranges, apples, pineapples, sweet peppers,cabbage, etc .
My child was given a project to make a theme of foods
Answer

this Question