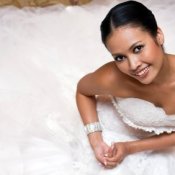 Good Morning America had a segment on this topic on 11-3. They suggested you be very careful when ordering a wedding dress online, especially if it comes from China or another country. When they ordered dresses from 3 different companies in China, the dresses were very inferior; and one dress wasn't even finished. It still had pins in it. The rental idea and thrift or consignment stores are good options.

I am looking to buy my wedding dress online. Can anyone recommend a good online store? I would prefer a store rather than Ebay or similar as I would like to find a style I like and be able to get it in my size. Finding one great dress in the wrong size over and over again will be too frustrating I think.
Monica from Kalgoorlie, Australia
Answers

January 15, 2008
0

found this helpful
I actually did get my wedding gown off of eBay, and was VERY happy with it! I, too, was a little concerned about the sizing or it not being very high quality (since I wouldn't be able to see it in person), but I was pleasantly surprised. I'm more of a "full-figured" person, so I didn't have much luck at stores in my area--lots of smaller sized dresses, but not very many dresses I liked in the bigger sizes.
So I tried looking on eBay, and found one I loved. I did take it to a seamstress for some alterations, but I paid so little for the dress (about $300), that I didn't mind spending a little extra for alterations. So if you aren't able to find any online stores, you might want to just take a peek at eBay and see what they have. Best of luck to you!

January 15, 2008
0

found this helpful
I just ordered and received a dress from Fashion bug, google coupons , I got a 20% off for my dress the total was $57. and change it is not too fancy nor too plain and it is ivory I think that they have other colors as well, I am so happy with it, I don't know your size but I wear an 18 and I worried that the dress would run small but it didn't it actually fits nice with breathing room. I needed my dress because my hubby and I are renewing our vows for 15 years this Sept. We didn't have a real wedding the first time so when he asked me to renew I knew it would need to be done right this time, I'm sooooo excited.
Good Luck
By Dawn (Guest Post)
January 16, 2008
0

found this helpful
Just Pretty Bridal Inc. on ebay my daughter bought hers from here and was very pleased.
By Esther Dumas (Guest Post)
January 17, 2008
0

found this helpful
Hi. my future daughter in law just bought hers through The Bridal Online Store.com They were wonderful and very helpful and you get a free tiara of your choice and many of the gowns comes with a matching shawl or purse. The workmanship is marvelous and I's sure can find what your looking. But most important is the dresses are always on sale. They can customize to any person or size. We did a huge search to find this one is the best we could find. Good luck and congratulations! They also have a phone number of 1-800-694-6967

January 18, 2008
0

found this helpful
Thanks guys. The feedback has been great, I have found another good site-http://www.formalgownsdirect.com
but i'm still looking. Got lots of time though.
By nellio (Guest Post)
January 18, 2008
0

found this helpful
Try AnnTaylor.com
By amanda (Guest Post)
January 18, 2008
0

found this helpful
i got my wedding gown, 3 bridesmaids dresses, flower girl dress and ring barer tux from keep me in stiches.biz all for under $600. And their all just beautiful.
I couldn't believe it myself when they called me and asked if I had any questions after I placed my order.
By Janice Javine (Guest Post)
January 30, 2008
0

found this helpful
I have a beautiful strapless Mori Lee Blu wedding dress that my daughter wore in July. I would send the veil with it. If you are interested please contact me at jjavine AT valornet.com

May 1, 2008
0

found this helpful
Wow. My first time on this site and there are two questions that are so similar that I have to answer again. bridalgownsused.com is a great place.
Answer

this Question

I was looking for the bridalonlinestore.com, but I cannot find it anywhere online any more. I tried to call their phone number, but another company is answering it now. Does anyone know if they changed their name, and how I can still get a hold of them? Thanks a lot for your help.
By carmenT
Answers

Pghgirl40
Bronze Feedback Medal for All Time! 196 Feedbacks
June 30, 2018
0

found this helpful
www.weddingwire.com/.../3fde81ff6180df52.html
This link says they are out of business if it was out of Ohio.

Judy
Gold Post Medal for All Time! 677 Posts
July 1, 2018
0

found this helpful
I couldnt find it but there are many others, including Kleinfeld, featured on Say Yes to the Dress
Answer

this Question