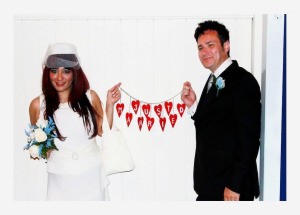 Wearing a hand-me-down wedding dress has many benefits, whether it's your mother's, your grandmother's, or someone else close to you. It has great sentimental value, it's cost-effective, and it will be one-of-a-kind. Not to mention, vintage looks are now all the rage. Here are some tips for altering your dress.
Start by making sure the gown can in fact be altered. Using fabrics that are very old may not hold up well to being tailored. If the dress is very vintage, have a pro look at it and its stitching. Remember that dated styles can be altered to work with current times. Does it have huge shoulder pads? Those can always be removed and the seams can be pulled in. The same goes for vintage necklines.
Age can put quite the effect on the amount of cleaning it will need. If it was properly stored, it will most likely be okay, but sometimes yellowing of white dresses can occur no matter how they were cared for. Consult with a professional cleaner who deals with bridal gowns to make sure the dress can be brought back to an acceptable colour. Do remember that your dress does not have to be white! These days, any colour you want is truly acceptable. Its whatever makes you happy.
Find the perfect person to make your alterations. You don't want any surprises, especially on what can be the biggest day of your life. You will really want to get along with this person and make sure your vision for your perfect dress is their vision, too. My sister-in-law did not mesh well with her tailor (she used her mothers gown) and the zig-zagging of her vision versus her tailor's vision ended up costing her thousands of dollars and many hours in distress, causing the engagement period to be full of nervousness. Do your homework and take the time to find the right person.
If you cannot get the hand-me-down dress to work for you, its always nice to use parts of it to incorporate into your wedding. Use the embellishments and have them stitched onto your dress. Use some of the fabric to wrap around your bouquet. Use some of the lining as your ring pillow.
If youare worried about doing too much cutting and altering, you can always leave it mostly the way it is and simply accessorize your way to happiness. Some great additions include veils, pillbox hats, tiaras, shawls, jewelry, belts, and gloves.
My wedding dress was actually my grandmother's. It was from her silk kimono. The best person I could find to be my tailor was my own mother, and she did such a great job. She even used the fabric to make a homemade pillbox hat with a net veil, a purse, and a belt. We had so much fabric from the long kimono that we made a detachable long flowing train. It was beautiful! We added her own diamond belt buckle from her wedding dress onto my belt, and I wore her engagement ring on my right hand. Having parts of both Mum's and Grandma's wedding days was all very emotional and unforgettable.