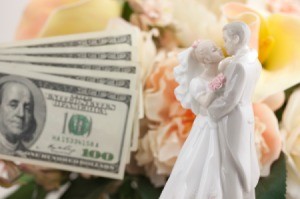 I'm planning a wedding for 10/09/10. I am on a strict budget of $3000 dollars. I would appreciate any tips and advice you could share to make wedding a memorable event.
By Chandra from Reidsville, NC
Answers

Cyinda
Bronze Post Medal for All Time! 213 Posts
December 13, 2009
0

found this helpful
Best Answer
My dress was bought during Prom (or Homecoming) season at a mall chain store. The dress was a white homecoming or prom formal (just beautiful!) & it cost under $80, but you can also buy a used wedding dress on Craig's List & get a great deal! To save money, I made my own bouquet with grocery store flowers. You can also rent silk flowers for the wedding, you can't tell if they are silk or real from a distance. To rent silk flowers cost about one-third of using real flowers.
We had a potluck reception. My mom told all her friends to bring a tasty hor'devours to the reception. I bought my wedding cake at a grocery store bakery (not a fancy cake store). I looked in their book & asked for colors that matched my wedding theme (Blue & White) We bought a keg of beer instead of buying champagne or wine for the reception.
Call around to get the best places to rent. Sometimes if a friend lives in an apartment with a clubhouse you can rent this space for a very good price. The bonus is, these places often come with pool tables. Have a DJ in place of a band & have them play a lot of "oldie" music (50's, 60's & 70's) so the "old" folks will dance & have fun too... Sometimes your city parks have interior place you can rent for a good price. If you keep it small, you could even rent a party bus to take you & your friends to several places.
Look to your local dollar stores or go on to dollartree.com to buy wedding & reception favors. You can buy a box of 12 little bottles of bubbles (instead of throwing rice) for only $1 (for 12 of them!) Also, they have candles & clear glass candle holders.
They also have those clear flat marbles which look so nice scattered around candles in candlelight.
One thing I can tell you to splurge a bit on is the photographer. We had a friend who said he was a photographer do our wedding pictures, & they were horrible. We really were disappointed & still had to pay him! When interviewing the photographer, have them show you examples of their work. This is one day you'll want to remember, so make sure you have several nice wedding pictures. You don't need to buy a huge package deal, just buy the least expensive wedding package you can get. (These days' everyone needs money & is looking for work, so I'd look on Craig's list for wedding photographers in your area & call 4 or 5 of them. Tell them you have very little money, but you'd like to find an arrangement that works for you both. (Get several references and call them!). The last thing you need is to have a photographer that fails to show up for the wedding! For the reception, just have your friends snap some pictures.
The most important tip I can give you is to think outside the box, don't worry & just have fun! I had several friends who had theme weddings. One was a 70's flashback wedding & one was a Renaissance fairytale wedding. These informal "theme" weddings were some of the most fun we'd ever had!

December 14, 2009
0

found this helpful
Best Answer
Borrow what you can! I bought my dress for $250 off the rack, it was originally $2500! So shop around.
bravobrides.com had some good fines on the site, like brides reselling items!
I had a candy buffet for my favors. I bought all my candy on sale after valentines day. I bought my candy holders from Michael's using coupons I got. If you sign up for their newsletter online, they will send you and 50% off coupon and other coupons!
Contact local high schools and colleges. My friend played in the high school orchestra and they used to do weddings for a donation! I have also heard of people who used colleges to do their flower arrengaments!
Ask friends to take pictures. You always want a few that way you have a better chance of getting good photos! Even professionals have more than one person taking the pictures!
Good luck! My advice is to enjoy the day because it will go by fast then you will even think!
Married September 12, 2009

December 17, 2009
0

found this helpful
Best Answer
Here are some tips that I used for my wedding and many weddings I have helped with.
1. Have your wedding at a friend or family members home. Inside look for a large winding stairway, outside look for a pretty lake or view.
2. Have an evening wedding. If the ceremony starts at 7 p.m. and the reception follows at the site you may not have to pay for the entire day.
3. Have a champagne reception only if the wedding starts late enough that all of the guests would have eaten before the ceremony. Be certain that you state on the invite that the ceremony will be followed by a champagne reception immediately followed by the dance so it is clear that food will not be served.
4. By a small cake for you and the groom to cut and then bake your own sheet cakes to be sliced and served. This will save you$$$ and everyone still gets cake.
5. Have your attendants carry 3 long stem flowers with a few sprigs of babys breath in their arms ( much like you see beauty contestants carry their flowers) this will cut your flower budget by a lot.
6. Shop for tux shops that give a free rental to the groom.
7. Use candles on reception tables along with dried rose petals scattered down the center of tables at the reception.
8. Remember less really is more. Avoid plastic, gaudy replicas of something you can't afford. It can ruin your look and your day.
9. Ask family and friends for wedding favors instead of gifts. Example if you a have a friend with a great singing voice have her sing at the wedding as her gift to you.
0. Comparision shop. Last but not least its the marriage that is the most important, the ceremony, not so much.

December 18, 2009
0

found this helpful
Best Answer
Congratulations! Ask friends if they belong to a fraternal organization that rents the hall. they often ask only for a donation (but you may have to purchase beverages from them). Ask and keep asking for friends, coworkers anyone who might know of folks good at whatever you need. We found a DJ who is doing the music as his wedding gift to our granddaughter because we are fellow church members.
Another church member is a party decorator and gave me access to her website and a ton of inexpensive suggestions for decoration and the pitfalls of some commonly used items. We found the gown and shoes at a consignment shop for $150 total. The groom to be had a relative that owns a print shop and that was his gift to them. The groom's father knows cake decorator that cut them a great deal on the cake. A family member's long time hobbyis photography and he is taking pictures.
Just keep asking around and you might be surprised at the talent that just pops up and how many people are eager and pleased to be asked. One post mentioned the photographer and I agree, but if you have a college nearby, even a community one, a student who is advanced might be able to do it for a nominal expense and even get extra credit for the project. I did see the results of one wedding done this way and the pictures were exceptional.

March 11, 2010
0

found this helpful
Best Answer
1) Check into romanticgowns.com. They have beautiful gowns at an affordable price. Also check the bridal stores for last seasons dresses. I found my dress like this & it was $300. No one knew it was a previous seasons style:) If you know someone who can alter your dress (if need be) do so b/c some alterations cost as much as the dress.
2)Favors: I wanted favors that would be used not tossed in a box with all the other wedding favors. Useful & affordable. I decided to go with bottled water. They could drink it at the reception or later on. The company I chose allowed me design my own label. The cost was about $.80/bottle. Very affordable.
3)Flowers: Look into artifical flowers. Michaels always has sales & coupons check their website. And you will always have your bouquet.
4)Skip seating chart. Its time consuming & place card fee can take funds away from more desired things.
5)Look for venues that you can do both ceremony & reception at. These places tend to work with you if your using them for both.
6)Depending on whether you have a fall theme or not you can always use the great outdoors for decorations & centerpieces. Instead of the flowergirl throwing rose petals, fill her basket with hand selected leaves. Affordable & you don't have to take time to pick them up after the ceremony.
Good Luck & Congratulations! Married Oct. 10, 2008 Jaguar2010

April 9, 2010
0

found this helpful
Best Answer
If weather allows, have an outdoor wedding in a public garden to save on wedding site fees. If not, look around for cheap alternatives. Local live theatre spaces, small performance venues that often host upcoming bands and such - we've used a local theatre for weddings, baby showers for friends, even fashion shows. They're very reasonable about rates and the seating is built in, so no need to rent chairs. The reception was held right on the stage after each ceremony, giving everyone a few moments to clear out while the food got rolled in on carts that were already prepared. Receptions can be held just about anywhere. Look for a friend with a clubhouse that can be reserved, or consider just having it at a private home.
Reduce the size of the wedding party. Buying gifts and throwing dinners for just a few wedding party members (and don't forget their significant others) will save you a ton of money. It might sound cold, but eliminate any unnecessary party members, like a flower girl. Don't wanna hurt people's feelings? If they know your situation they will either offer to chip in or else back off and respect your wishes. Tell people you're on a strict budget and they'll understand, especially if they've been through this themselves. For instance, my best friend had only both sets of parents in the wedding party, which was fine with me because I could wear whatever I wanted, focus only on her instead of myself, and spend more on their gifts that way!
Don't worry so much about formal wear. Most men either own or need to own a plain dark suit for special occasions. There are places, mostly online, that specialize in "destination wedding" dresses that often run about the price of a good prom dress. A dress that looks like it can be worn to another function and will usually cost less anyway, and you can always get it dyed to another color later on. Why use something only once when you can reminisce while wearing your "new" red dress to a party later on? Also, never rule out getting a used dress. If you get something either as consignment or online that is roomy enough, you can spend a bit at the tailor to make it perfect for you at a fraction of the price.
Purchase your own supplies for invites. All we needed for one friend was envelopes, vellum, nice thick card stock, a die-cut flower punch, ribbons, and some glue dots. She printed them off at home and I helped her assemble the flowers and ribbon with everything in under two hours, giving her a savings of hundreds of dollars from what she was going to order from a printer.
I hate to tell you this, but no one cares about your centerpieces but you! (We're there for the party, you know.) Go very minimal on them, using sparse candles or small photo trees with clips on them to display pictures of you two as kids. If you can't make your own photo tree, check out an office supply store. Stay away from any kind of product that is marketed towards weddings. This is only an excuse to jack up the price.
Flowers are fine, but also expensive. Consider an unconventional bouquet, like one made totally from ribbons or garden items. This gives you the chance to make it more personal and offers something unique to your wedding. People with allergies will thank you later! This also goes for favors. Keep it simple and consider what people (including you) are going to be hauling away from the occasion. The coolest favors are also the most pragmatic ones. Think about custom matchbooks, m&m's with your names, packages of mints, and the like. My favorite is a pen I carry around in my purse all the time from my brother's wedding. This way I actually use it and still think of the wedding often with a smile.
Don't rule out using students or interns in a particular field for stuff you need to get done. Local schools have culinary programs, photography programs, graphic designers and more. These people are all looking for ways to expand their portfolios while hopefully getting paid. Feel free to ask for samples of their work and be clear about your vision for the wedding as you explain it to them. They'll often be more amenable to giving you what you want since they're establishing themselves as fledgling professionals.
Lastly, think about eloping or going with a destination wedding. Both have the benefit of only a few people at the ceremony itself. You can always throw some sort of reception later on to celebrate. If it's about the gifts, just remember this - you DO pay for those presents. You might be better off just saving the cash for a bigger investment, like a new house, a car, or your college fund. And don't be shy about asking for cash or gift certificates only from people. They often call it a "honeymoon fund" or a "new home fund" as a way to keep the request from feeling tacky.
Hope this was a help to anyone who needs it. We eloped in the theatre at a new year's eve party and had a large dinner later. I couldn't have asked for a less stressful way to do it. But I've also been to all kinds of ultra low budget affairs that were terrific. Mostly, being on a tight budget brings out the most creativity I've seen at weddings, making them the most memorable ones. In fact, some people I know would say that $3000 is a lot to spend on a wedding if you're just willing to put in a little thought and effort. What really matters in the end is the marriage itself.

July 7, 2013
0

found this helpful
Best Answer
Just got done doing this. The most expensive part was the dress, (350 @ David's bridal, $85 for the alterations, and abt. $100 for the two undergarments) then the rent-a-preacher who got about $425 and we saw him a total of abt. 1 hour.The cake was made by the groom's sister, we had wedding and reception at the church we normally attend, so no fee there.. We had about 95 guests, and we didn't go elaborate on the menu, and we cooked it ourselves.Centerpieces were done by the bride's Aunt, and we borrowed some items from a cousin who recently married. Look for Michael's and Joanne's coupons...those were a huge help. I got an archway at half off! My biggest pice of advice would be to make sure whoever is doing your photos knows what they are doing!!! I gave my $600 camera to one of the bride's friends to take pics, and most came out blurry. I found out the setting had been changed to "Manual" in the camera. Fortunanatly, my sister in law also took a ton, so I was very glad. If you are having a friend take pics, have him or her come to the rehearsal and take pics and adjust from there!
Answer

this Question