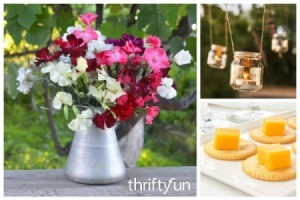 My fiance and I are getting married at the end of August and are on a tight budget. We need somewhere to hold a ceremony and reception for 60 guests.
Our budget is $2000 - $2500. Does anyone have any ideas besides a church that we could use? We would prefer indoor as opposed to an outdoor ceremony.
Answers

March 5, 2009
2

found this helpful
Best Answer
My dh and I rented our historic court house for 550.00 for our daughters wedding. It was very beautiful and had beautiful hardwood floors with a kitchen for her caterers. It had a big room plenty of room for table and chairs from the rental store and big tall windows which were perfect for pictures. She had a small stage where she placed and arch in front of her cake table. The tables were decorated simply with candle vases and she put clear marbles in it and put ribbon around the vase with her colors (lavender and pastel light green).

March 7, 2009
0

found this helpful
Best Answer
We used a family friend's condo recreation room. It was great, had a kitchen and everything. Best of all it was free. There was a $60 deposit which they return as long as no damage was done. A park was one of my other options. Many parks have indoor spaces, some even allow you to pitch a tent.
The problem was that they close at sun down. When searching, don't look for "wedding reception" halls, the places that cater to weddings will usually be more expensive. I just did a post on receptions in my blog (www.lowcostweddings.blogspot.com).

March 17, 2011
0

found this helpful
Best Answer
Check out your local community center, they are usually big enough to hold weddings and you could probably have the reception there as well.
By (Guest Post)
March 2, 2009
0

found this helpful
Sometimes parks have facilities for rent & they are reasonable but booked up early so check into it soon. We were to a wedding last week where nobody had flowers except the bride & 3 bridesmaids bouquets. Reception hall was sparsely decorated by only using the church's tealights on the tables.
Nothing wrong with it - that stuff adds up. I heard they were taking a trip to Hawaii & they will remember that more than who had a flower on their lapel.

Dena Roberts
Bronze Feedback Medal for All Time! 102 Feedbacks
March 4, 2009
0

found this helpful
Our community club has a really nice, big room they rent out, and you can make your own decorations. Silver and any colour looks good. Flowers can be donated from friends' and neighbors' gardens; wedding bells, doves, and hearts, etc. Can be cut from large sheets of poster board from the dollar store. Dollar stores have 3-D decorations, bells, etc. You could also check with your local University. My nephew had his wedding in the University gym. A Justice of the Peace will perform the ceremony anywhere you want. My brother had his wedding in the Turf Club at our race track.
He and his new wife got to present a wreath to a race winner. All it cost was the price of the food $30 per person. It was the best wedding I've ever been to! And cheap! They put dollar store bells on each wedding guest table and wrapped Hershey's kisses in net for each guest, gluing a dollar store place card (horse shaped..because of the race track theme). To each "kiss package", and the race track was happy because, of course, most of the guests placed bets! Congratulations and have fun!

March 14, 2009
0

found this helpful
My mom works at a place called brookside center. Its a building you can rent for weddings, parties, etc. It is only 85 for 5 hours and has plenty of room with chairs and tables supplied for you. Since I live in Texas this specific place probably wouldn't work for you but it is through the Recreation center so check with your local center, they probably have something along the same lines and it helps save alot, especially since they supply chairs and tables and have a kitchen available for use.
Good Luck.
Answer

this Question