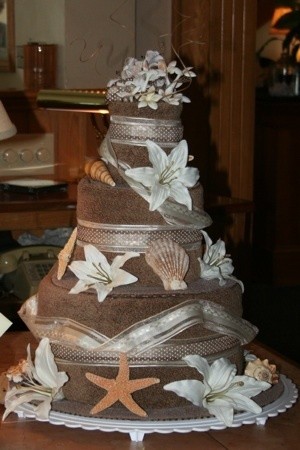 This is a towel cake I made for my brother's wedding this summer. He and his wife were married on the beach and I used the towels they had on their wedding registry.
I used a combination of ribbon, shells, and flowers. I put a dowel in the middle to hold the three layers together. I secured the flowers and shells to a painted cardboard cake circular (between the cake layers) using hot glue.
I used corsage pearl pins to hold the towels together after rolling them. It helped that the towels were brown, giving it a more realistic cake look. I hope this idea helps anyone looking for a unique way to wrap towels from a wedding registry.
By Diane K from Leesburg, VA
Comments
August 19, 2008
2

found this helpful
Top Comment
Fake cakes rule! I made one for my sisters revow and then embellished it again for the fair. My daughter loved it so much she asked if she could have it for her gift table! Now, her sister in law wants one for her wedding!
Love may make the world go 'round and money might grease the wheel, but us creative people make it worth looking at!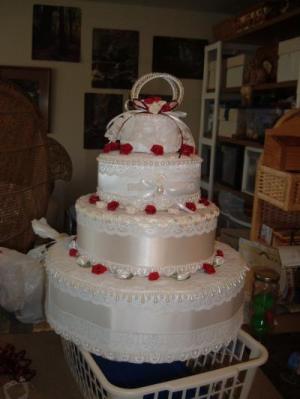 By Evy from NH (Guest Post)
August 20, 2008
0

found this helpful
Top Comment
I just saw this in WOMAN'S WORLD, MAY 19 2008 It has all the directions in making this "SPECTACULAR SHOWER GIFT.
( The bride to be will be double delighted when you present her with practical linens disguised as a towering Wedding Cake )
I love yours much better.
The directions that Woman's world had is:
Towel sizes vary, so you'll have to adapt our directions to suit your towels.
Aim for a 2"-3" difference in diameter from one tier to the next.
Fold 2 BATH TOWELS in half lengthwise and half again.
Fold 2 WASH CLOTHS to the same width.
Fold 2 HAND TOWELS, one in thirds, the other in half, lengthwise.
Fold 4-6 TEA TOWELS in half lengthwise.
TOP TIER:
Starting at one short end. carefully roll the HAND towels folded in thirds into a cylinder about 6" across. FASTERN securely with Pearl-Headed Corsage Pins.
MIDDLE TIER:
Roll one Wash Cloth, roll the second over it, then add a Bath Towel, making a cylinder about 8"across; pin. ( same as above)
BOTTOM TIER:
Roll into a cylinder about 11"wide, start with Tea Towel, then Hand Towels, the Bath Towels.
Adjust diameter if necessary by adding or subtracting Tea Towels.
Stack cake and pin tiers together.
At the base of each tier, pin on a band of 3" SATIN RIBBON, then 1" FLOWER TRIM, then PEARL BEADING. (3 yards of each). cutting each long enough for a 1" overlap at the back
Pin SCOLLOPED LACE TRIM around each tier's top edge, then add SMALL WHITE ROSES (get 24), evenly spaced about 3" apart.
To Do, trim off the stem, then push a pin through the rose's center into the cake.
Make a rosegay of SMALL WHITE FLOWERS about 5" high - 6"across. Trim stems to 3", wrap with WHITE FLORAL TAPE, Slip stems into center top.
Tie a bow of 1" RIBBON (1yd)
Pin to cake at top.
By Karen Foiles (Guest Post)
August 22, 2008
0

found this helpful
Top Comment
I had posted my Faux Wdding cake earlier but that was not the finished product. Here are the instructions again...
My Fiancé Ken and I just pushed up our wedding date from November 1st to October 5th. So we don't have a lot of time and most definitely not a lot of money. We just found out that Ken's son has enlisted in the Marines and will be leaving on October 17th.
So one of the many ideas I have swimming inside my head was a how can we cut the cost of a wedding cake? So why not a fake 3 tier box cake and then have a sheet (real) cake in the back. The idea is to have a slot on "cake" and have note cards for our guests to put thier well wishes into or they can use it to put wedding cards into. This way we still have the feeling of a cake but not the expense. Here's what I did...
Items Used:
1 (top) box - Wedding Card box from the dollar store (what a lucky find!)
1 (middle) box - Toy Castle from the dollar store (this needed to be put together and was a little bit bigger)
1 (bottom) box - case of beer that holds bottles (not the one for cans)
*Wire ribbon - 3 spools, white in color, from dollar store
*Tulle - 15 yds cream in colored, from dollar store
*Silk flowers - 4 packs, cream in colored, from dollar store
*Pull Bows - 3, white in color, from the dollar store
Glue gun and pins.
4 x 4 Square craft foam hollowed out at the top. This is to secure the wedding topper.and wrapped with netting.
Instructions:
Cover the beer box with white computer paper. Spray painted the toy castle box white. Stacked the boxes according to size, I made sure the slot in the top box faces the front not up. This way I can put a wedding topper on the top. Take tulle and start wrapping snuggly from the bottom up until you get a nice smooth look. You also want to include the top and cut and glue down and cover with ribbon the tulle when you get the slot in the box. Kinda play with it a bit to make sure it's all even.
Take the white wire ribbon and wrap around the bottom of the each box and secure with glue gun. I took the silk flowers and put them in the middle of the bottom tier and on the center tier, I found this wonderful ribbon that had my fiancés and mine favorite colors in it and centered that on the center tier.
I cascaded the pull bows on each tier. Next to the top bow I'll have our cake topper that has our initials on it and in each bow I'm going to have 2 little charms with my kids names on it and the other bow I'll have 2 little charms with Ken's 2 kids initials on it also.
This is our third time around for both of us... :-)
This IS the finished Product..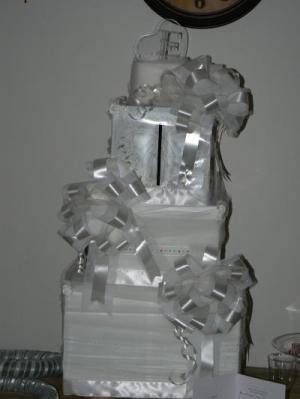 August 26, 2008
0

found this helpful
Top Comment
This is a really neat idea...I have made 2 so far and the one I am posting is out of a cheaper towel that I mail ordered from Penneys for my daughter shower a week ago. None of mine look like the above pictures, but I don't think either was bad and they certainly make a nice centerpiece for a shower. I bought some little things to go on it at A.C. Moore. I would say that anyone could make one. I certainly am *not* a craft sort of person so if I can, anyone can!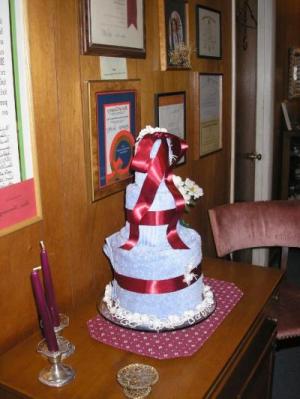 You will need to buy two bath towels, two hand towels and two washcloths. Any color will do, but white works best for the affect of having a wedding cake.
Fold each in thirds or fourths (depending on how wide you want each layer) lengthwise. Starting at one end of the bath towel, start rolling as if rolling up a sleeping bag. Check carefully for folds coming undone and keep it tight! When you are a few inches from the end you can either safety pin the end to the end of the second folded towel, or carefully lay end on end and continue rolling to make one big "cinnamon roll". When you come to the end of the second towel, fold edges under and safety pin closed ensuring it is pinned to rolled towel to hold in place. Repeat this process with the hand towels and wash rags leaving you with three "cinnamon rolls".
Carefully stack the med. sized roll onto the large roll and then stack the small roll onto the medium roll to make a three-tiered wedding cake. You will need to safety pin discreetly in at least two places on each level to pin the layers together. You can decorate with silk flowers around the edges to cover up the pins.
I did this for my brother and his wife and they used it as a centerpiece to one of the tables at the reception! I bought two bath scrubbies that I pinned to the top as a cake topper. I bought several packs of trial size lotions, soaps, etc. and those foil packets of face scrub, etc. all perfect to take on the honeymoon and carefully placed around edges of cake and used tape to hold them to the towel. I used the strings of ribbon and silk flowers for the bottom edges of each layer and then used larger silk flowers for the tops of each layer. I did those in the wedding colors.
Everyone was taking pictures of that cake and went on and on about how cute it was. My sister in law didn't want to take it apart until she could show her mother. They drove 18 hours away with it in their car just to show it to her mom!
By Tawnda