I have a friend who is getting married in March and she wants a nice wedding with bridesmaids and all, but she doesn't want to spend a lot of money. Any ideas on how she can have a nice wedding without breaking her piggy bank?
Summer from Osceola, Arkansas
Answers

Judi
Bronze Feedback Medal for All Time! 239 Feedbacks
September 15, 2008
0

found this helpful
Many years since I got married so maybe my ideas are outdated but...she could start with asking "crafty" friends to help. People love to be part of happy times. Maybe a friend is great at flower arranging, maybe somebody bakes terrific cakes, maybe somebody can sew. A bride can gear it down to a more "natural" type wedding and still have a very meaningful event.
I've seen woodland weddings, ranch weddings, farm weddings, and beach weddings. None cost a fortune and all were special and memorable. In my opinion, it should be something that means somethng to the couple. Do they sky dive?
By KLS8800 (Guest Post)
September 16, 2008
0

found this helpful
You do not say how many will be attending, how many bridesmaids/groomsmen. You also do not say what is your max budget. Are you having just snacks or complete meals at the reception?
Look at consignment shops. I found a beautiful ivory wedding dress for 20 dollars.
For shoes: Payless ShoeSource used to sell shoes called 'Dyeables' which were white satin-like shoes, some flat, some heels, that they sent out to be dyed to match either a wedding or prom dress. New, it would be about 25-30 a pair, but sometimes, the customer would reject the shoes for whatever reason and then PS would sell them for about 5-10.
Flowers: Use silk/fake flowers. You can get some nice looking ones either at Wal Mart or even the dollar store if you are lucky. Maybe only the bride have real flowers.
Food: Either have both bride and groom's families make pot luck and bring it if you are going to have a sit down meal, or ask somewhere like KFC if you spend a certain amount can you qualify for a discount If you don't want chicken, you can still get other things like buscuits, potatoes, corn, etc. If only having finger food/snacks then it will be cheaper to do it yourself.
Location: Where do you want the ceremony/reception? If you are thrifty enough to save a lot on everything else, maybe you can rent a hall or church...Ask your clergyman for help with ideas, too. Maybe the congregation can do either a plate passing or money tree to help with wedding and/or getting started.
Good luck and congrats.
By Jawga (Guest Post)
September 17, 2008
0

found this helpful
My husband and I had an inexpensive wedding a year ago and the first piece of advice I'd give anyone planning on having a frugal wedding is to NETWORK! Sit down and think about family and friends and exactly what they can do, most are just waiting to help out on a project like this. For instance, my brother in law is a minister so he married us free of charge, I had two friends who do photography as a hobby so they took all my pics for free and gave me a copy, I did all my decorations and florals myself, being a bit crafty and bought all my supplies at Hobby Lobby, Michae'ls and the Dollar Tre.
My sister in law let get married in her backyard, I had two friends who borrowed or had big Boston ferns, fresh cut sunflowers, one made my grooms cake and both came to help put up the decorations before the wedding. I had more family who helped decorate and all who came brought a snack/finger food to help out with the reception.
I provided serving plates/trays, napkins., utensils, ice and drinks. I downloaded my music from the internet and had my own cd player to play it on.
My dress was bought by a dear friend for a wedding gift while the hubby wore overalls he already had with a new $5 red shirt, ours was a country themed wedding. My children were the only attendants and they wore jeans and red shirts also. Our invitations were bought off the reduced rack at Walmart for $5 and we made them ourselves. I think our wedding turned out beautiful, something different for sure and we had plenty of compliments from our families and friends.
About the only thing we did have to pay for was our wedding cake and we got someone who worked at a bakery who did cakes on the side to do ours and it was gorgeous. Good luck on making the day special and affordable!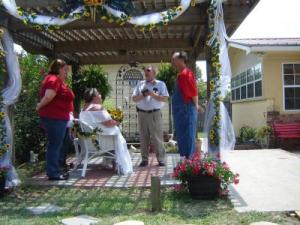 September 20, 2008
0

found this helpful
My daughter got married at a very upscale catering hall. We had the ceremony and reception there, so no cost for the church. We also didn't need to spend much on flowers because it was the Christmas season and the rooms were already decorated. I just bought 3 pointsettia plants for each table, carnation bouquets, corsages and boutonieres. My daughter made her own rose bouquet. She got married on a Tuesday evening which saved us an enormous amount of money. We invited 80 people and 79 showed up, so Tuesday is not as inconvenient as you might think. At least 20 people came from other states too.
The photographer was a friend of the groom's family so they got a good deal on that. The three bridesmaids were also my daughters. We bought their dresses off of the clearance rack at Macy's and their shoes at Payless. The original wedding dress was a simple white gown also off the clearance rack. That wasn't fancy enough for the mother of the groom, so she bought my daughter a $400 dress a few days before the wedding.
We also didn't buy or rent tuxes. All the men wore black suits and ties and white dress shirts. I bought my son's ring bearer outfit on Ebay.
My daughter's college roommates played violin and flute during the ceremony as their gift to her and the catering hall piped in classical music from satelite radio. My daughter and her roommates painted Christmas ornament with the bride and groom's names and date. The whole thing cost me $3,000 but the in-laws did spend at least $1500. It could be done a lot cheaper though. I hope at least some of my ideas are helpful.
By Jenni (Guest Post)
September 23, 2008
0

found this helpful
For my wedding, which is coming up in 2009, I have kept a very tight budget. I bought my dress on eBay; it is a simple, dusty rose number. ($70). We are going to spend the money on the reception and get married in the judge's chambers on a Wednesday ($40 including license and marriage fee). My apartment complex has a community room, and since our party will be just 30 people or so, we are going to rent that room ($100 deposit, $50 gets returned at the end of the night). My fiancee and I opted for a more casual wedding, so we are letting everyone know that nice jeans and nice tops or summer dresses will be great (we have a lot of girls coming, as he has sisters and neices and I have 2 sisters myself). My friend's sister does photography as a hobby and is going to do pictures for us for a low cost, around $50. The wedding menu is going to be a mock Thanksgiving meal of turkey and the fixings ($60). As wedding favors, we are going to have people take home the leftovers! For music, I have a friend who is going to loan us his stereo and we can mix and match types of music to play. My hair will be done by a hairstylist friend of mine. For beverages, we decided that we will have soda and one keg of beer for the beer drinkers, and a pitcher of the hairstylist's and other friend (the one who is loaning me the stereo)'s favorite drinks. If anyone wants something special, they will need to bring it themselves. Finally, a lot can be said for the craft section at Dollar Tree, Dollar General, etc., to get silk flowers and even material to make a veil. I promised my fiancee that we could get out of the wedding cheaply, and I intend to keep that promise!
By Heather (Guest Post)
September 27, 2008
0

found this helpful
Look for dresses at the mall. I found my dress in the prom section at Dillards. It is a white mermaid style dress with a aqua ribbon at the waist for $39. It pays to look for good deals. I am opting to not have attendants and have a very small ceremony so that will also help with cost. Also printing your own invitations is a big help. Michaels, Target and WalMart all have very nice do-it-yourself invitation kits.

September 27, 2008
0

found this helpful
Look at the mall for dresses. I found my dress at Dillards for $39. It is a beautiful white mermaid style with aqua ribbon at waist. Also printing your own invitations can save a lot of money. If you are having a small wedding you may want to keep the reception to something simple. I am just having a small family ceremony with just cake afterwards. I am also not having any attendants so that others don't pay too much as well.
By April (Guest Post)
September 29, 2008
0

found this helpful
Think about what you would like to do if you could afford anything. Then, think about alternatives for those things.
For example; I wanted daisies and a hand-tied bouquet. So instead, we bought silk flowers and wrapped the stems with ribbon and floral pins. The guys also wore silk flowers with ribbon touches, and the moms and grandmothers had a different type of daisy corsage. Floral tape is cheap and you can copy a design you like.
We decorated with white Christmas lights. They are pretty cheap if you have to buy them, but everyone has a few strands so we just combined our resources. The lights make a very elegant glow.
We did have our own music, that was copied from cds and downloaded online, then compiled onto mix cds for different things (dancing, listening, etc.).
We scrapped the favor, program, name card ideas because they usually end up in the trash and are a waste of money. The church we were married in did not have a/c, so we decided to make paper fans instead. these were paid for by my aunt as a gift.
We had our first communion together instead of the candles and all the candle holders (which cost money). We bought bread on sale at the grocery store, grape juice, a cheap matching bottle and glass set, and used my great grandmother's bread bowl, and some fake fruit for decoration. Someone let us borrow a beautiful lace tablecloth for the communion table.
We didn't decorate the church much, but it was beautiful in itself. We did hang some wreaths on the door that were I think $8 at walmart. We added a few flowers and bows that matched the others, and we did hang some floral garland off the clearance rack at michael's on the banisters outside of the church.
The men bought suits at s&k menswear (2 for 1), so they all matched. The girls bought a dress from jc penney online for about $50. It looks like a nice Easter dress, but they all match, and they bought shoes from jc penney as well. $25 the kid's outfits wee bought at burlington coat factory and jc penney. flower girl dress was $50, and boys outfits were $20 each. they were a little 3 piece casual suit and tie. I spent the most money on my dress - that's important!
For the food, we bought it in bulk from a barbecue place and had family and friends serve it. We fed everyone for less than $8 a person. We used canned cokes and bottled water in metal bins with ice (no need to buy cups). Since it was a barbecue dinner, paper plates was perfect.
We found this photographer that was awesome through word of mouth. She charged $500 plus travel expenses (our wedding was out of town) and I think it totaled about $1300. She was there the entire weekend, no time limits, and she caught everything we wanted, and we got all the files and some free prints.
Overall we spent $4500 on our wedding, including the hotel suite for the weekend
By lisa (Guest Post)
October 3, 2008
0

found this helpful
I'd recommend cutting back on how much you'll pay for the dress & then resell at a consignment store because it's just going to take up storage for the next 20+ years. It's EXTREMELY doubtful your kids will like the style anyways. It's a white dress, any white dress will do just adjust the skirt size to your formality. All the hand beading, frills, lacing, etc. is unnecessary or you can add a few details yourself to make it special.
Spend time exercising every day, eating nutritious food, use tasteful make-up and you'll make any dress gorgeous. If you're sentimental, keep the veil as a momento instead. Veils are super easy to make & that will give it added significance. Don't spend a lot of money on the shoes either, use white ones you already have, or as I'm going to do, just spray paint a pretty pair from the thrift store gold. No one can tell the difference.
Having the reception & ceremony in the same place can be more cost effective. Wedding invitations get thrown away so design your own, & buy card stock & vellum in bulk yourself. www.paperandmore.com/ You can find lots of free images on line to create pretty borders karenswhimsy.com/free-printable-borders.shtm & the fonts Lucida Calligraphy & Baskerville Oldface look pretty.
Address your cards to families so you don't have to send one to each cousin or child who's moved out. Make your reply card a post-card & save on postage costs! You can cut back on the cake by just getting a 2-tier fancy one to do the cake cutting ceremony & then have a basic sheet cake with similar colors/decorations to feed everyone. We're also keeping the size down to 50 people only which saves on food & favors. For favors do a quick ebay search "wedding favor seeds" and you'll get tons of cheap options if you're florally inclined.
By Gina (Guest Post)
October 14, 2008
0

found this helpful
Okay, she needs to really think hard and rationally before she purchases anything. Some items, when you think about it are just an extra expense and a little extravagant. For example, why send save the dates?
If you send the invites out in time there should be no problem. And who needs some expensive invitations with all kinds of fancy papers and ribbons dangling everywhere. You kind buy very fancy looking blank invites at Hobby Lobby and then download a free fancy font. There are hundreds to choose from.
There are also white prom dresses that look like the real deal. One thing to be careful about is buying on the internet. I shopped around for the cheapest wedding favors. I ordered the favors from allweddingproducts.com and never received my order. They charged my credit card account. Luckily my credit card company refunded my money but I was left without any favors. There was no time to purchase a replacement. So research a site fully before you make your purchase.
Also be very careful about the fact that items often times look better in the picture rather than in real life.
Another thing is that real flowers are very expensive. There are some very affordable and beautiful fake flowers. I made my own cascading bouquet and all the boutonnieres for less than $50. by purchasing everything at Hobby Lobby. And everyone complimented the flowers.
Making your own veil or having a friend of family member make one is so easy. We made a gorgeous cathedral veil for less than $30 by purchasing everything at JoAnn's fabrics and Claire's Boutique.
Answer

this Question