I need cheap ideas for a $300 wedding for 50 people. The dress and place are already taken care of. They are having a church wedding in July. My sister doesn't have a lot of money to throw her daughter a wedding. Any ideas? Is it possible? Thanks.
By tammy from Phelan, CA
Answers
January 25, 2010
0

found this helpful
If you know where the wedding will take pace, come up with a plan or outline the decorations wanted - pew bows, flowers and or candles on the alter, centerpieces, etc and start looking now for items to help. Check for discounted Christmas lights, white lights will be decorative in any season. Now would be a good time to start some seeds indoors so that by wedding time there will be flowers for decorating. Depending on the colors, after Valentine's Day and or After Easter sales may prove to be a gold mine. Start with a plan but be flexible you never know what you might see that is a great item but in the 'wrong' color.
If you find a candle in the wrong color, you can melt some wax and add the color you want and either whip with a rotary type egg beater and apply to the outside of the candle or you could paint the wax on the candle with a paint brush. Of course if you find something you could always post her for how to make-it-work.
Not waiting until the last minute will help with budgeting and cut down on last minute panic purchasing. Good luck
January 25, 2010
0

found this helpful
Is there a time span in mind? If so, how many hours is predicted for the wedding, from ceremony start to reception end. If it's going to be only a few hours, find a time frame after a meal time, so the food served will be light and inexpensive. (A wedding from 1 to 4 P.M., or 6 to 9 or 10 P.M., will have guests coming just to celebrate post-meal.) Consider serving only desserts for the guests, such as a cupcake 3-tier set-up, for about $2 per person, instead of a $5 per person cake. Also, ask for help from friends and family, and maybe a loved one can make a beautiful wedding cake as a gift to the couple instead!
This site (thriftyfun.com, of course!) has some great money-saving ideas for weddings and parties. After my own browsing, do-it-yourself weddings can provide a wonderful wedding on a bargain budget! (I.E. make your own invitations, if they haven't been mailed already: use card stock with coordinating ribbon/design/lettering/envelope accents, such as a black computer-printed elegant font on white card stock with a shimmery light green border and matching green for the envelope, or other related colors to the wedding).
Salvation Army has a 1/2 off day (in my area at least, but I think nationwide stores have the same once a week) that may offer BIG savings for vases, table cloths, clothes, ribbon, sewing patterns, platters, fake flowers, stationary, etc!
Pictures: An idea from this site offered an idea to get portraits at a sit-down studio before the wedding. However, the groom will see the bride before that traditional alter-walk so keep that in mind when considering the nostalgia factor. or, get a friend with a nice camera, and skills to take pictures, or pass out many disposable cameras for an array of personal photographers' dear moments of the day.
Favors: these are optional, remember. Perhaps the couple can send out a wallet size picture as a favor with the (homemade) thank you cards? Or, have a small candy buffet (with post-valentines chocolates/other sweets) and little 3"x4" hand-sewn fabric, draw-string bags or small/same size paper fold-over bags made from card stock or pretty scrapbook paper for guests (glue a U-shape with 2 exact pieces of paper with the blank sides facing, or make small hole-punches and weave thread or ribbon to secure paper together to form a rectangular goody bag).
January 28, 2010
0

found this helpful
You already have some great ideas that other people have posted but if you are looking for decor or bouquet you may think of making the flowers out of coffee filter and color with food color or bingo dabbers. You can also make small flower bouquet in a small painted clay pot and give as wedding favor. Think "nature" and "recycle" and you will be amazed at what you can come up with. Simplicity can be a beautiful thing. Wishing you a happy life.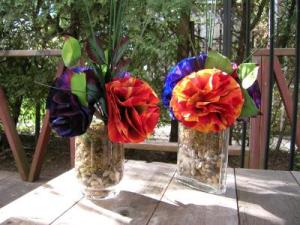 January 28, 2010
0

found this helpful
Call close friends and family for help. Ask if they have decorative items, paper products, that kind of thing. Check online, ebay sells personalized napkins for a fraction of what you'd pay locally.
A group of friends put on a wedding at a church recently. I found one person who bakes wedding cakes, asked her to volunteer if I would help do that cake and another, she agreed. Cost of materials was about $20. Alternatives would be a cupcake tower, or even a donut tower. Or, do a fake cake (towels and ribbon) and then sheet cakes to serve. The cake alone can cost hundreds.
I heard of one woman who bought cakes from Krogers, three different sized 2-layer cakes with no decoration on top, and stacked them at the reception site. That cost a fraction of a normal wedding cake cost. If you go this way I would have an icing bag and can of white icing with me at the site, just in case there are any small repairs to make, One of your friends should be capable of doing this.
Food can be as simple as punch and cups of nuts, but we made a meal very cheaply. We checked the sale ads, found chicken for .99 a pound. Then I went to the closest store and told them the circumstances and asked if they would meet the price. They did. Rub chicken with mayonnaise, very thin coating, then dip in bread crumbs mixed with salt, pepper and paprika. Bake on cookie sheets for 50 minutes at 350, then put into foil-lined coolers (no ice, you're trying to keep it hot).
My sister picked up rolls that morning from the day-old store. She got a variety of styles and it looked good. We also got the breadcrumbs there.
Cole slaw can be made cheaply, lots of recipes on the internet. Or buy bagged salad greens, add a few veggies and a couple of bottles of dressing. We also made mac and cheese. Everyone was happy with the food.
It's about the party and the love and support for the couple. One of my favorite weddings of all time was a potluck.
January 28, 2010
0

found this helpful
Dollar Tree actually has wedding supplies!
January 28, 2010
0

found this helpful
Go to all the wedding shows you can. When I got married I signed up for every drawing they had in the end I won my wedding site and got great discounts on evrything from my flowers to the tuxes. I got both my husband and dad's for free.
You can also get great ideas for favors you can do for at least half the price the vendors will charge you. I made 300 favors for my wedding for about $75 and the same favors were going to cost me around $5 each to order them. You can order sandwich trays from Costco for food and have family and friends bring a side dish.
The one thing I found out was no one remembers the what they ate or what the site looked like. They remember having a good time.
Read More Answers
I have a friend who is getting married in March and she wants a nice wedding with bridesmaids and all, but she doesn't want to spend a lot of money. Any ideas on how she can have a nice wedding without breaking her piggy bank?

Summer from Osceola, Arkansas
Answers
September 15, 2008
0

found this helpful
Many years since I got married so maybe my ideas are outdated but...she could start with asking "crafty" friends to help. People love to be part of happy times. Maybe a friend is great at flower arranging, maybe somebody bakes terrific cakes, maybe somebody can sew. A bride can gear it down to a more "natural" type wedding and still have a very meaningful event. I've seen woodland weddings, ranch weddings, farm weddings, and beach weddings. None cost a fortune and all were special and memorable. In my opinion, it should be something that means somethng to the couple. Do they sky dive?
By KLS8800 (Guest Post)
September 16, 2008
0

found this helpful
You do not say how many will be attending, how many bridesmaids/groomsmen. You also do not say what is your max budget. Are you having just snacks or complete meals at the reception?
Look at consignment shops. I found a beautiful ivory wedding dress for 20 dollars.
For shoes: Payless ShoeSource used to sell shoes called 'Dyeables' which were white satin-like shoes, some flat, some heels, that they sent out to be dyed to match either a wedding or prom dress. New, it would be about 25-30 a pair, but sometimes, the customer would reject the shoes for whatever reason and then PS would sell them for about 5-10.
Flowers: Use silk/fake flowers. You can get some nice looking ones either at Wal Mart or even the dollar store if you are lucky. Maybe only the bride have real flowers.
Food: Either have both bride and groom's families make pot luck and bring it if you are going to have a sit down meal, or ask somewhere like KFC if you spend a certain amount can you qualify for a discount If you don't want chicken, you can still get other things like buscuits, potatoes, corn, etc. If only having finger food/snacks then it will be cheaper to do it yourself.
Location: Where do you want the ceremony/reception? If you are thrifty enough to save a lot on everything else, maybe you can rent a hall or church...Ask your clergyman for help with ideas, too. Maybe the congregation can do either a plate passing or money tree to help with wedding and/or getting started.
Good luck and congrats.
By Jawga (Guest Post)
September 17, 2008
0

found this helpful
My husband and I had an inexpensive wedding a year ago and the first piece of advice I'd give anyone planning on having a frugal wedding is to NETWORK! Sit down and think about family and friends and exactly what they can do, most are just waiting to help out on a project like this. For instance, my brother in law is a minister so he married us free of charge, I had two friends who do photography as a hobby so they took all my pics for free and gave me a copy, I did all my decorations and florals myself, being a bit crafty and bought all my supplies at Hobby Lobby, Michae'ls and the Dollar Tre.
My sister in law let get married in her backyard, I had two friends who borrowed or had big Boston ferns, fresh cut sunflowers, one made my grooms cake and both came to help put up the decorations before the wedding. I had more family who helped decorate and all who came brought a snack/finger food to help out with the reception. I provided serving plates/trays, napkins., utensils, ice and drinks. I downloaded my music from the internet and had my own cd player to play it on.
My dress was bought by a dear friend for a wedding gift while the hubby wore overalls he already had with a new $5 red shirt, ours was a country themed wedding. My children were the only attendants and they wore jeans and red shirts also. Our invitations were bought off the reduced rack at Walmart for $5 and we made them ourselves. I think our wedding turned out beautiful, something different for sure and we had plenty of compliments from our families and friends.
About the only thing we did have to pay for was our wedding cake and we got someone who worked at a bakery who did cakes on the side to do ours and it was gorgeous. Good luck on making the day special and affordable!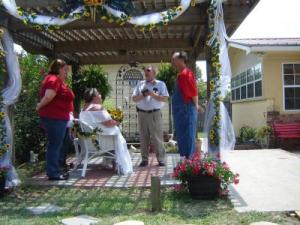 September 20, 2008
0

found this helpful
My daughter got married at a very upscale catering hall. We had the ceremony and reception there, so no cost for the church. We also didn't need to spend much on flowers because it was the Christmas season and the rooms were already decorated. I just bought 3 pointsettia plants for each table, carnation bouquets, corsages and boutonieres. My daughter made her own rose bouquet. She got married on a Tuesday evening which saved us an enormous amount of money. We invited 80 people and 79 showed up, so Tuesday is not as inconvenient as you might think. At least 20 people came from other states too.
The photographer was a friend of the groom's family so they got a good deal on that. The three bridesmaids were also my daughters. We bought their dresses off of the clearance rack at Macy's and their shoes at Payless. The original wedding dress was a simple white gown also off the clearance rack. That wasn't fancy enough for the mother of the groom, so she bought my daughter a $400 dress a few days before the wedding.
We also didn't buy or rent tuxes. All the men wore black suits and ties and white dress shirts. I bought my son's ring bearer outfit on Ebay.
My daughter's college roommates played violin and flute during the ceremony as their gift to her and the catering hall piped in classical music from satelite radio. My daughter and her roommates painted Christmas ornament with the bride and groom's names and date. The whole thing cost me $3,000 but the in-laws did spend at least $1500. It could be done a lot cheaper though. I hope at least some of my ideas are helpful.
By Jenni (Guest Post)
September 23, 2008
0

found this helpful
For my wedding, which is coming up in 2009, I have kept a very tight budget. I bought my dress on eBay; it is a simple, dusty rose number. ($70). We are going to spend the money on the reception and get married in the judge's chambers on a Wednesday ($40 including license and marriage fee). My apartment complex has a community room, and since our party will be just 30 people or so, we are going to rent that room ($100 deposit, $50 gets returned at the end of the night). My fiancee and I opted for a more casual wedding, so we are letting everyone know that nice jeans and nice tops or summer dresses will be great (we have a lot of girls coming, as he has sisters and neices and I have 2 sisters myself). My friend's sister does photography as a hobby and is going to do pictures for us for a low cost, around $50. The wedding menu is going to be a mock Thanksgiving meal of turkey and the fixings ($60). As wedding favors, we are going to have people take home the leftovers! For music, I have a friend who is going to loan us his stereo and we can mix and match types of music to play. My hair will be done by a hairstylist friend of mine. For beverages, we decided that we will have soda and one keg of beer for the beer drinkers, and a pitcher of the hairstylist's and other friend (the one who is loaning me the stereo)'s favorite drinks. If anyone wants something special, they will need to bring it themselves. Finally, a lot can be said for the craft section at Dollar Tree, Dollar General, etc., to get silk flowers and even material to make a veil. I promised my fiancee that we could get out of the wedding cheaply, and I intend to keep that promise!
By Heather (Guest Post)
September 27, 2008
0

found this helpful
Look for dresses at the mall. I found my dress in the prom section at Dillards. It is a white mermaid style dress with a aqua ribbon at the waist for $39. It pays to look for good deals. I am opting to not have attendants and have a very small ceremony so that will also help with cost. Also printing your own invitations is a big help. Michaels, Target and WalMart all have very nice do-it-yourself invitation kits.
September 27, 2008
0

found this helpful
Look at the mall for dresses. I found my dress at Dillards for $39. It is a beautiful white mermaid style with aqua ribbon at waist. Also printing your own invitations can save a lot of money. If you are having a small wedding you may want to keep the reception to something simple. I am just having a small family ceremony with just cake afterwards. I am also not having any attendants so that others don't pay too much as well.
By April (Guest Post)
September 29, 2008
0

found this helpful
Think about what you would like to do if you could afford anything. Then, think about alternatives for those things.
For example; I wanted daisies and a hand-tied bouquet. So instead, we bought silk flowers and wrapped the stems with ribbon and floral pins. The guys also wore silk flowers with ribbon touches, and the moms and grandmothers had a different type of daisy corsage. Floral tape is cheap and you can copy a design you like.
We decorated with white Christmas lights. They are pretty cheap if you have to buy them, but everyone has a few strands so we just combined our resources. The lights make a very elegant glow.
We did have our own music, that was copied from cds and downloaded online, then compiled onto mix cds for different things (dancing, listening, etc.).
We scrapped the favor, program, name card ideas because they usually end up in the trash and are a waste of money. The church we were married in did not have a/c, so we decided to make paper fans instead. these were paid for by my aunt as a gift.
We had our first communion together instead of the candles and all the candle holders (which cost money). We bought bread on sale at the grocery store, grape juice, a cheap matching bottle and glass set, and used my great grandmother's bread bowl, and some fake fruit for decoration. Someone let us borrow a beautiful lace tablecloth for the communion table.
We didn't decorate the church much, but it was beautiful in itself. We did hang some wreaths on the door that were I think $8 at walmart. We added a few flowers and bows that matched the others, and we did hang some floral garland off the clearance rack at michael's on the banisters outside of the church.
The men bought suits at s&k menswear (2 for 1), so they all matched. The girls bought a dress from jc penney online for about $50. It looks like a nice Easter dress, but they all match, and they bought shoes from jc penney as well. $25 the kid's outfits wee bought at burlington coat factory and jc penney. flower girl dress was $50, and boys outfits were $20 each. they were a little 3 piece casual suit and tie. I spent the most money on my dress - that's important!
For the food, we bought it in bulk from a barbecue place and had family and friends serve it. We fed everyone for less than $8 a person. We used canned cokes and bottled water in metal bins with ice (no need to buy cups). Since it was a barbecue dinner, paper plates was perfect.
We found this photographer that was awesome through word of mouth. She charged $500 plus travel expenses (our wedding was out of town) and I think it totaled about $1300. She was there the entire weekend, no time limits, and she caught everything we wanted, and we got all the files and some free prints.
Overall we spent $4500 on our wedding, including the hotel suite for the weekend
By lisa (Guest Post)
October 3, 2008
0

found this helpful
I'd recommend cutting back on how much you'll pay for the dress & then resell at a consignment store because it's just going to take up storage for the next 20+ years. It's EXTREMELY doubtful your kids will like the style anyways. It's a white dress, any white dress will do just adjust the skirt size to your formality. All the hand beading, frills, lacing, etc. is unnecessary or you can add a few details yourself to make it special.
Spend time exercising every day, eating nutritious food, use tasteful make-up and you'll make any dress gorgeous. If you're sentimental, keep the veil as a momento instead. Veils are super easy to make & that will give it added significance. Don't spend a lot of money on the shoes either, use white ones you already have, or as I'm going to do, just spray paint a pretty pair from the thrift store gold. No one can tell the difference.
Having the reception & ceremony in the same place can be more cost effective. Wedding invitations get thrown away so design your own, & buy card stock & vellum in bulk yourself. www.paperandmore.com/ You can find lots of free images on line to create pretty borders karenswhimsy.com/free-printable-borders.shtm & the fonts Lucida Calligraphy & Baskerville Oldface look pretty.
Address your cards to families so you don't have to send one to each cousin or child who's moved out. Make your reply card a post-card & save on postage costs! You can cut back on the cake by just getting a 2-tier fancy one to do the cake cutting ceremony & then have a basic sheet cake with similar colors/decorations to feed everyone. We're also keeping the size down to 50 people only which saves on food & favors. For favors do a quick ebay search "wedding favor seeds" and you'll get tons of cheap options if you're florally inclined.
By Gina (Guest Post)
October 14, 2008
0

found this helpful
Okay, she needs to really think hard and rationally before she purchases anything. Some items, when you think about it are just an extra expense and a little extravagant. For example, why send save the dates?
If you send the invites out in time there should be no problem. And who needs some expensive invitations with all kinds of fancy papers and ribbons dangling everywhere. You kind buy very fancy looking blank invites at Hobby Lobby and then download a free fancy font. There are hundreds to choose from.
There are also white prom dresses that look like the real deal. One thing to be careful about is buying on the internet. I shopped around for the cheapest wedding favors. I ordered the favors from allweddingproducts.com and never received my order. They charged my credit card account. Luckily my credit card company refunded my money but I was left without any favors. There was no time to purchase a replacement. So research a site fully before you make your purchase.
Also be very careful about the fact that items often times look better in the picture rather than in real life.
Another thing is that real flowers are very expensive. There are some very affordable and beautiful fake flowers. I made my own cascading bouquet and all the boutonnieres for less than $50. by purchasing everything at Hobby Lobby. And everyone complimented the flowers.
Making your own veil or having a friend of family member make one is so easy. We made a gorgeous cathedral veil for less than $30 by purchasing everything at JoAnn's fabrics and Claire's Boutique.
Answer

this Question

...
I need some cheap wedding ideas or any websites that would help. Thank you. I am a college student and money is tight. I want my wedding colors to be purple, black, and silver. Any ideas with anything would help.

By Mary from OK

Answers:
Need Help Planning an Inexpensive Wedding
Try to find a local wholesale flower shop or buy them at the supermarket. Make sure you find out when they receive fresh ones and buy them that day. I made all of my niece's table arrangements, bouquets, etc. This can save you a lot of money. I spent less than $200.00. (08/26/2010)

By rach
Need Help Planning an Inexpensive Wedding
A lot of weddings where I live only use votive candles on the tables, or else the bride and her attendants just lay their bouquets on the tables during the reception. You don't need to have a dance or a catered sit down dinner either. (08/26/2010)

By Joan
Need Help Planning an Inexpensive Wedding
I married in college as well. We had the service at the school water fountain (okay'd by the school), we borrowed the college radio station equipment to play our music. The chairs came from the college and were set up by friends so we only needed one school employee at the site. We had the reception in the school cafeteria. The pastor was a friend of the bride (maybe your folks know a pastor, if you don't). It was a very inexpensive wedding. The only flowers were the ones for the bride and bridesmaids. The photographer was a student in the photography class who wanted the practice. We just paid for the film (and tipped him) he developed the pictures himself. (08/26/2010)

By Suntydt
Need Help Planning an Inexpensive Wedding
Have a wedding tree at the reception or have a Money Tree Shower for money gifts rather than registering at stores. Get a sturdy branch with lots of stems off a tree, strip it of leaves, spray paint it silver, ground it in a "brick" of weighted Styrofoam or florist foam, and have black office clips to hold the envelopes of money. Then you can use the funds for your greatest need. Use lots of real ivy to decorate. If it is variegated, it looks pretty and you can sprinkle it with silver glitter.

If you are getting married in a church, use the church's hall for the reception. Do not serve food as in a sit down dinner or buffet and do not serve drinks, alcohol will raise the price significantly. Instead do wedding cake, fruit and veggie trays, maybe a cheese tray, coffee, tea, and punch. If you have friends/family that know how to take good photographs or DJ, explain your situation and ask them to give of their talents as your wedding gift. (08/27/2010)

By Fran
Need Help Planning an Inexpensive Wedding
Borrow as much stuff as you can. Look around your house or your folks and friends for ideas on things they already own that you could use (potted plants, or trees, etc.). Go to thrift stores (go frequently), flea markets, garage sales, and look for ideas and or items there. Go to the library and get some books for ideas. Keep it simple.

You don't need everything "printed" with your name on it. You can make your own bride and groom toasting glasses (thrift stores are full of wine and champagne glasses cheap), and unity candle also. Don't pay $30 for a candle that nobody is really going to get a close look at or even care about.

Don't have the reception catered either. Make the food yourselves or ask for help from family and friends such as letting some of the help you receive (food providing) be that person's wedding "gift" to you. It's about the day, not how much you spend also. Walking down the aisle with one beautiful rose in your hand looks as good as a bouquet. Don't buy an elaborate costly dress you will never wear again or shoes either. Just some thoughts. (08/27/2010)

By Vicki
Need Help Planning an Inexpensive Wedding
Borrow tons of clear or white Christmas lights if it is to be indoor this will look pretty. Make your favors; go to craft stores or garage sales for materials. EX: I used one roll of thin pink ribbon and cut about 1inch sections which I put on stems of champagne flutes and hot glued a mini black cowboy hat. It was cute so we did this with the tulle filled with birdseed favors, too! Or you could use little tiny fake wedding rings instead of cowboy hats.

We got married outdoors at a park in San Diego and the fee was about $20.00 and the scenery priceless. The flowers were real and I lucked out as a grocery store was just adding a floral section so I got them very cheap. All I had to do is give the store a few photos of the flowers. The cake was from a local trendy coffee shop that used imported chocolates on my cake, and the cost was inexpensive under $80.00 and got so many compliments.

Borrowing things is a great idea. Have a craft person make your decorations instead of a gift or hold a little lunch to make your decorations with friends. Have fun it is your day and you do not want to go into debt for this plan ahead as much as possible. (08/30/2010)

Need Help Planning an Inexpensive Wedding
You can buy PVC pipe in 4 inch or any kind of tubing (carpet tubes, concrete post tubes), cut them about 2 feet high and fill them with wild flowers (cat tails, wild daises, or even branches that you can paint). You can cover the tubing with a colored sheet or paint them. You can find strings of beaded garland at 75% off after Christmas. These tall table settings make a big impact. (09/20/2010)

By Lee
Need Help Planning an Inexpensive Wedding
If you want your napkins to have your name on them, there are shops that will design a personalized stamp (not sure of the cost) some make the stamp so that it embosses. (09/20/2010)

By Lee