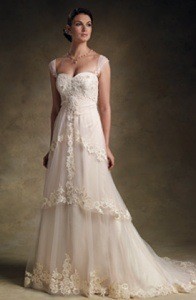 I really love this dress, but it's so expensive. I was thinking, maybe I could buy a simple tube/strapless bridal dress from David's bridal outlet for $49.99 and embellish it with tulle, and beads, etc. I want it to look like this picture.
Here is the link to the simple dress i am planning to get from David's. I would like it to resemble the one in the picture. any ideas?
www.davidsbridal.com
By tetmarie from Kansas City
Answers

Joan
Bronze Feedback Medal for All Time! 186 Feedbacks
November 1, 2009
0

found this helpful
Best Answer
This dress is really pretty, but unless you are a real talented seamstress and /or craft person it looks like it would be fairly difficult. Take it from somebody who has been sewing for roughly 60 years. The picture looks like there is a lot of ruffling and floral type work around each tier of the tulle. It also looks like there is some type of lacey floral work on each side of the bodice. Fancy fabrics are fairly hard to work with because they slip around so easily. I made my own wedding dress in the early 60s and that was just a plain, simple street length dress out of a white brocade fabric.
While I was still married I made a completely lined western style sport coat for my husband. Both of those are projects I would never want to make again. I also made formals for my daughter's high school proms. They weren't real fun to make either. When the girls were that age formals were quite plain, no layers of tulle, not many ruffles or lace or anything. I guess if you are confident you could do it, but it might be a better choice to lower your sights on the dress you want.

OliveOyl
Bronze Feedback Medal for All Time! 138 Feedbacks
November 1, 2009
0

found this helpful
Best Answer
Good advice from redhatterb. I agree it's pretty hard to convert a plain dress to the one you pictured. By the time you get done buying materials and trimmings it will cost you quite a bit and might not turn out the way you wish.
Don't get hung up on a single dress--keep an open mind and look for something that's right for you that you can afford.

Cyinda
Bronze Post Medal for All Time! 213 Posts
November 1, 2009
0

found this helpful
Best Answer
I've been sewing since 1969. If you have money to burn, I'd say, Go for it & make your own custom dress! If you're poor like me, then you'd might want to stick with something simple. Here's why. The appliques can be quite costly, (price them) as can some of the lace. I agree with "redhatterb", tulle & satin can be hard to work with & also quite slippery. Not to mention that some machines will suck the thin fabric down into the bobbin casing. You can sometimes put white tissue paper under it to prevent this. The only way I'd want to take the time & spend the money on appliques & lace to re-do a wedding dress would be if I found one for five or ten bucks at a yard sale or thrift shop. If you can find a dress that's close to what you want you can simply sew some lace on it. The appliques can be glued on to the bust area with a brand of glue called Fabri-Tac.
But my advice to you would be to keep checking on Craig's list in your local area & keep your eye out for a beautiful dress in your size. Many women get divorced, gain weight or have no kids to pass their gowns to & would happily sell their $800 dresses for $80 to just to get rid of them! After all, there's not many women that want to keep a gown that's just taking up space in the closet they're never going to wear again. You can also try e-bay, but I like to buy in my local area so I can actually try the gown on before I spend the money. Make sure you take a man with you when you meet the seller of the dress & always try the dress on! Never go alone to a stranger's house & never let a stranger know where you live!
When I got married I bought wonderful prom dress, it was a white dress that was sold during prom season. I also found some nice wedding dresses at Nordstrom's Rack (Nordstroms is a high-end store & Nordstrom's Rack sells things from past season's that did not sell). If you have the time, you can look around at Prom & Homecoming time for a beautiful white, off white or light pink or blue dress you love. After wearing the dress for my wedding, I shortened it to wear out on special occasions. If your dress isn't really fancy with lots of lace & appliques you'll be able to shorten it & wear it again & again!
If you are set on doing this, you may want to instead interview seamstresses on Craig's list in your local area & ask them what they'd charge. When you find out what the appliques sell for, you'll not want to take the risk of ruining them. But IF you can find everything super cheep (the dress, appliques & lace) then go ahead & have fun re-making the dress! Just have a back-up dress in case it doesn't turn out the way you'd hoped!

November 5, 2009
0

found this helpful
Best Answer
This is where I disagree, I also have been sewing for years and I would say the simplest solution would be to buy a vintage wedding dress at a thrift shop which is cheap because its out of fashion BUT has the embellishments you require. I would literally cut out the floral lace areas or areas of interest and use fabric glue and hand sew gently around the edges, maybe adding a few beads as you go around the outside, the shoulder straps on the dress you like would be the easiest in the world to attach, they are literally 2 squares of net gathered up and hand sew to the front and back of the dress over a smaller shoulder area say 4 inches max, this creates the gathered effect and I would attach to the inside of the dress,
Nobody is going to get their magnifying glass out to inspect your dress and its the overall effect. You will be able to make amazing interest by buying a simple dress and adding your own lace or beads, you could make a spectacular patter on a train by adding, vintage lace crochet doilies arranging the circles to represent flowery effects, I know because I did it on my own wedding dress. You could make a simple net or tulle bow to add at the rear of the dress just where the train area begins, best of luck with your dress and please post a picture when you are done. carol x

Beth
Silver Feedback Medal for All Time! 407 Feedbacks
November 5, 2009
0

found this helpful
Best Answer
If you are going to bead it, don't sew them on by hand. I beaded a lace applique with 400 beads for a wedding dress using glue the specialty fabric store provided. You pick up the beads with tweezers and just touch them to the glue before placing them. The dress is washable this way, but not dry cleanable.

November 9, 2009
0

found this helpful
Best Answer
As an experienced seamstress my opinion is it could definitely be done. You will need lace and a netting fabric that falls in a soft drape, not a stiff tulle. Unless you have experience at sewing I suggest you hire a seamstress. I hope this was helpful.

November 13, 2009
0

found this helpful
Best Answer
Four words,sweetie:Thrift shop,and Wonder under.
You can take the lace off a second hand wedding dress from a thrift shop, gently hand wash it, and apply it to the dress you purchase. Use wonder under, an iron-on type of fixative, which comes on a stiff white backing paper. When you follow the directions and iron it on, it will be absolutely undetectable. And the real wonder under is super durable. I have washed items in the washing machine that I had attached trim to,using it. The trim never came loose.
Then use the pearls, beads and sequins, and even the overlay material from the thrift shop dress to create your vision.
Glue the beads and pearls ,and if you have leftover beading, pearls, etc., you can use them to trim the bottom of your veil,or in your veil comb. You can also use the lace from the old dress on your veil!just use the wonder under to apply it there as well. The netting will hold up to the heat of the iron.
How do I know? When my husband and I renewed our vows after years of marriage,we had six kids in attendance, and little money, so Mama got busy, and the dress was beautiful! Here's a tiny glimpse.www.myspace.com/gloriajhayes
The lace you see appliqued on the dress and veil are done with wonder under, and the netting trimmed away behind the lace.
If you take the overlay skirt off the old dress and leave the lace on the bottom of it as is and cut to the length you want from the top,where the overlay was stitched to the dress, you won't have to do a lot of extra work.Just attach each layer to your dress,starting with the bottom layer and working your way up the skirt of your dress.
Then you will be abiding by the old adage; something old, something new,something borrowed, something blue! Old lace, new dress, a love that is true-blue, and great ideas from the girls of thrifty fun! Be blessed!
Answer

this Question
I recently bought a plain wedding dress. In an attempt to save money, I am interested in adding jewels to it myself to make it a bit more glamorous. Where can I find/buy the materials to do this (jewels, glue, etc.) and does anyone have any suggestions on the best way to go about doing it?
By Justine
Answers

November 29, 2011
0

found this helpful
Best Answer
Try Michael's, Hobby Lobby, and JoAnn Fabrics for supplies and clerks who actually know how to do what you want to do-they'll be able to give you great advice, too.
Best wishes on your marriage, and good on you for going creatively frugal with the wedding dress, that's a great way to start married life:)

Lilac
Silver Feedback Medal for All Time! 450 Feedbacks
November 29, 2011
0

found this helpful
Best Answer
You can buy jeweled lace and other similar things at Jo Ann's fabrics. You can also order Jo Ann's fabrics on line. At the store they offer free advice and help with projects like yours. Good luck. I wouldn't glue onto the dress. Whatever you want on the dress should be stitched.

November 30, 2011
0

found this helpful
Best Answer
I redid my sisters revow dress, but it already had some things on it. What I found is that if the dress has any form like an asymetrical side, a bodice that is drop waisted, etc, that is where you want your accents.
Her's had some imperfections on it, so to make it all look the same, I covered them all with the same embellishment. I did use glitter glue, but I have been crafting for years so I am pretty good at it. If you are a novice, then they are right, stick to stitching, esp' if you have time.
There are indeed some lovely laces and edgings out there that would really doll up a plain dress. I actually crocheted some edgings for a dress one time, and it turned out great.
Believe it or not, thrift shops and such can be the best place to find cool things. I got a dress once that netted me 4.5 yards of lace, a rhinestone brooch, some satin and pearl buttons...all for 5.00
I put together some of the lace I have for my crafts, just to give you an idea of what is out there. Hope this helps. PBP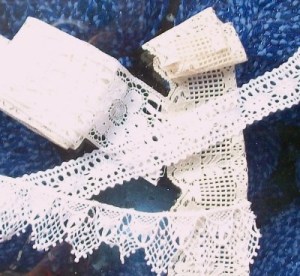 January 1, 2012
0

found this helpful
Best Answer
You can get lace with sequins. Organza in Ivory with sequins and glass beads or pearl beads will give it a more elegant look .Have a look at some bridal magazines and you can get ideas and your imagination will run. It will work out cheaper.
Answer

this Question