Put Tip or Request Here
Answers:
Calla Lily centerpieces
If you're looking to make your centerpieces out of fresh flowers, stores like Sam's Club and Costco have very nice flowers for extremely good prices. If you don't want to purchase a membership, ask a friend if you can use hers or check to see if your office has a membership. In some areas, floral wholesalers will sell directly to the public--this is how I got the flowers for our wedding.
Ask around for proper care of calla lilies. We used roses and emptied a refrigerator and used a thermometer to keep the temperature exactly what the flower shop told us it should be. We also misted the flowers in addition to keeping them in water as long as possible. It's important that the fridge be empty of food because certain foods (mostly fruits I think) put off chemicals that will cause flowers to wilt faster.
If you prefer silk, again some wholesalers will sell to the public. Or, perhaps you have a friend who has a vendor's license. If not, watch your local craft store for a 40-50% off sale. Don't be afraid to ask the salespeople when the next sale will be and what the best sale they offer is. They will be glad to tell you.
As far as actual ideas for the centerpiece, I saw a beautiful one recently. Take a tall, thin vase and insert 2 or 3 calla lilies with stems trimmed to different lengths. The unusual thing is that the flowers go completely inside the vase, they do not stick up like a traditional bouquet. Since calla lilies are such tall flowers, traditional bouquets made with them tend to be too large for tables where people will be sitting.
A bit of advice from a recent bride, as you're discovering, weddings are extremely expensive. Borrow absolutely anything you can and keep your decorations simple. Before you buy any decorations, be certain that you know the total amount it will cost and weigh that against the effect it will have on the look of your reception. Some details do a lot for the atmosphere, some go virtually unnoticed by your guests.
Colleen (05/02/2003)

By ThriftyFun
Calla Lily centerpieces
First, I would go with silk flowers since they can be made ahead of time which will greatly reduce your stress. Since you are planning early enough, you can search yard sales, thrift shops and flea markets for silk flowers and other supplies. Nothing says you have to have the same arrangement at every table. Using different arrangements at each table would add interest to a wedding.
The following links give you lots of design ideas for a calla lily centerpiece.
From Flutter, Fly Away! Farm, a centerpiece in a basket: (weblink)http://www.flutterflyaway.com/RELEASE/IDEAS/Tootsie%20Roll/callabask.htm(/weblink)
From Accent-Events.com, several bride and groom centerpieces featuring calla lilies: (weblink)http://www.accent-events.com/wedding_bgcenterpieces.htm(/weblink)
WeddingFlowersForYou.com has a calla lily centerpiece which looks easy to make: (weblink)http://www.sitesfound4u.com/p147.html(/weblink)
In the Mood has some exquisite designs: (weblink)http://www.inthemood.org/inthemood/pill8.htm(/weblink)
Vegas Wedding Flowers has a "stunningly elegant" centerpiece: (weblink)http://www.vegasweddingflowers.com/countrycorner.htm(/weblink)
As with most items, I would search eBay for the silk flowers and other supply items needed to make your arrangements. Although I haven't bought from nor compared prices of the following sites, they advertise wholesale prices for silk flowers.
Save-on-crafts (weblink)http://www.save-on-crafts.com/silflowshop.html(/weblink)
Afloral.com (weblink)http://www.weddinglinksgalore.com/cgi-bin/sites/search.cgi?query=silk+flower+supplies(/weblink)
Have you searched (weblink)http://www.about.com(/weblink), (weblink)http://www.diynet.com(/weblink) and/or (weblink)http://www.hgtv.com(/weblink) for other ideas and information? I find these are great sources.
And finally, USABride.com (weblink)http://www.usabride.com(/weblink)
and UltimateWedding.com (weblink)http://www.ultimatewedding.com/(/weblink) have TONS of wonderful ideas and links to more "awesome wedding websites." Look under "Wedding Planning" for centerpieces when you use the USABride.com site.
Have fun, relax and enjoy the next several months leading up to your wedding. This should be an EXCITING time for you! Best wishes.
(05/07/2003)

Calla Lily centerpieces
I am trying to find the same thing and I recently saw an article from Winston Flowers in Boston, where they took an inexpensive tall glass vase, filled it half way with pearls (from craft shop) and stuck a bunch of the smaller calla lilies inside. The pearls kept the stocks standing and it is very elegant looking with the white or creme pearls and white lilies. (04/08/2004)

By mll
Calla Lily centerpieces
I am doing the same thing but I found a great website for "real" flowers.. www.onlinewholesaleflowers.com... They have a package of 100 large Calla Lillies, 50 Mini Calla Lillies, 2 gallon bags of roses, and greenery for $400 (including overnight shipping).. Add some ribbon and you are in business.. It will work out to be a heck of allot cheaper than going to a florist.. I know.
I am looking for 11" to 12" glass vases (cheap) for the centerpieces now! (05/05/2004)

By dezfil29
Calla Lily centerpieces
I did see a something on TV where the decorator took large calla lilies and put them in a confectioners jar (the old round candy jars with the lid at the top/side). They were bent in a circular fashion. I think that would be a great centerpiece, low enough for conversations, and I would put pearls or glass stones in the bottom to add ambiance. (05/18/2004)

By Meredith Wills
Calla Lily centerpieces
I also am making a calla lily centerpiece for each of my tables. Michael's had all their spring stems for $1 right now. I just got 20 white and yellow calla lilies for $20! I would suggest going there if you haven't bought them already! (06/02/2004)

By Kelly
Calla Lily centerpieces
Don't go for fake flowers, they just aren't good enough for a wedding. Try this simple but very chic centerpiece, which I use for many of the weddings I plan: take 2 long stems of calla and a globe vase or goldfish bowl. Fill bowl with water and twist the two stems around inside the vase; the bloom itself should be underwater. You can then use a scented floating candle on the top of each bowl. (06/02/2004)

By English Diva
Calla Lily centerpieces
Don't bother making them yourself. go to a florist and get them to do it for you. It may cost a little more but you don't need the stress when you are about to get married - you have enough to do!! (06/24/2004)

By fiona lajia
Calla Lily centerpieces
I don't know if you have found anything yet. If not I have beautiful Calla Lily centerpieces on my site www.itsathemething.com. They retail for $6.99 each, I have them for $4.50 each. You could not make them for $6.99 much less $4.50. I have 50. I also have a large matching centerpiece (not on my site yet). (08/16/2004)

By Marion
Calla Lily centerpieces
My suggestion - Buy bud vases, use very slightly colored water via food coloring, and add two real calla lilies and maybe just a hint of greenery like ivy on the tables around the vases. (08/20/2004)

By Toni Krys
Calla Lily centerpieces
Just one piece of advice, don't spend tons of money on fancy decorations because nobody remembers all of the little details anyways. They remember what a good time they had. A little goes a long way! (08/21/2004)

By Riquise
Calla Lily centerpieces
Hi there! I am also thinking of using calla lily as for my centerpieces and therefore have been doing some research. I found this website last night that might help us out in getting some ideas. I'm not sure how much this would cost, but they look really pretty so I thought I would pass this on. The website is http://www.seven-degrees.com/site/portfolio.html Make sure you click on "Pportfolio 2" I posted one of the pictures but there are more on the website. (12/17/2004)

By Ana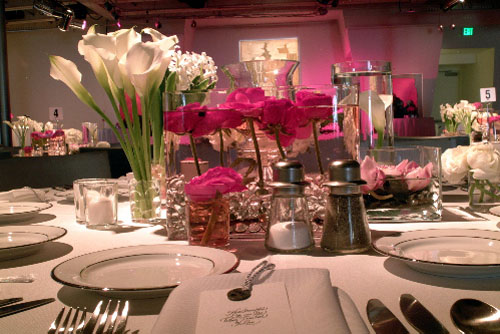 Calla Lily centerpieces
Another picture:
The website is http://www.seven-degrees.com/site/portfolio.html Make sure you click on "Portfolio 2"
I hope this helps!
Best wishes on your wedding, Ana (12/17/2004)

By Ana
Calla Lillies
As someone had mentioned to purchase calla lilies from http://www.wholesaleflowers.com. I would not recommend them. A couple months ago I purchases 75 roses for my friends shower and 10 different colored and sized calla lilies for myself to see if I wanted to used them for my wedding. The roses were wilted and the petals were falling off. The calla lilies looked as if they had been hit by a frost. A bit brown at the tips and very small. Not at all what they looked like at the online picture. So I am so glad I ordered them well before my wedding just to see their appearance. I'm still searching for a good price on calla lilies if anyone can help.... (01/08/2005)

By melissa
Calla Lily centerpieces
I'm doing the calla lily centerpieces for my wedding reception and just found outstanding prices on Ebay, I bought 9 white bushels ( 18 in a bushel) for only 8.00 a piece then shipping. Then I bought 6 more of the purple. I'm going to cut the stem and mix and match, put in a vase with the ice crystals, and set that on a 10 " mirror with the purple ice crystals spread outside. (02/16/2005)

By Miranda
Calla Lily centerpieces
I purchased heart shaped bud vases at Wal-mart for under $1.00 each, and then used calla lilies and lavender sprigs from a craft store and cut one calla and two sprigs down to stand just a little over the top of the vases. I filled in the empty space with white tissue paper (down in the vase). I then tied purple ribbon around the top of the vase. Looks great and they won't die! (03/07/2005)

By Tiffani
Calla Lily centerpieces
You can purchase some small vases, single stemmed calla lilies, baby's breath and some clear gems and make the perfect simple yet elegant piece! You take the gems and put them in the vase then put in one or two calla lilies topped off with a baby's breath! (03/11/2005)

By taz
Calla Lily centerpieces
Since there is a recent post I decided maybe I could help out too:
for the bud vases:
http://www.discountmugs.com/2_jumbo-shooter-glass.htm
for the flowers:
https://www.fleurspermail.com/results.php?id=RsKSfii0ygGJIeCDTPjQqh2u1rvbqVvB&b=2&flower=51
I am using their pictures as a guide and buying the flowers by the dozen to make my own. Find someone who is a retired florist, a high school student that is in floral design or has graduated from floral design. (04/14/2005)

By Kelly
Calla Lily centerpieces
I found a nifty little site with cheap calla lily centerpieces for a good price to! Depending on the size, they have calla lilies in tall vases, stunning and beautiful, heaps of colors, the site is below. They come in kits so you can create it yourself, (you can add or take)
thanks!
http://www.weddingflowersandmore.com/hydrangea-satin.html (04/20/2005)

By sarah
Calla Lily centerpieces
Use round glass bowl about 4 to 5" in opening at top, 3 silk calla lilies opened, colored marbles at the bottom, and a floating candle in the middle obviously filled with water (distilled). The calla lilies stems are rounded inside the bowl with the actual flower on the outside rim of the bowl. Contact me if you need more information. My wedding is in May and my mom and I created this look it is very elegant and not expensive. (04/26/2005)

By tonya mcguire
Calla Lily centerpieces
I am looking for Calla Lily Vases as well, the only store I know is Patkitans, it is a craft store in Ohio. Let me know if you find any real good deals!
(05/19/2005)

By Alicia
Calla Lily centerpieces
I am doing the same thing for my sisters wedding. I am taking a crystal clear glass vase that looks like a drinking glass only much taller with a little wider mouth. Approx 14 inches tall. I am putting it in the center of each round table on top of a circular shaped glass. I put clear votive candles (4) on the glass at 12,3,6,and 9 o'clock positions. You can use clear gel candles inside or matching candles of your colors. Fill the glass half full of clean, clear water. Put 3 calla lilies inside each one or just one. Results cheap and elegant! The vase is sold at Moskatels or Michaels which is a craft store for 3.99 each the mirrors are approx 3.00 each and the votive candle holders and candles approx 1.00 each! (05/26/2005)

By tisa re3eves
Calla Lily centerpieces
I found beautiful centerpieces at a website called "wrap with us". It is a bowl held by a porcelain bouquet of calla lilies. They are I think around 25 dollars, they are 10" tall and 9" round so they are good size. All I am doing is putting some floating candles in the bowl and I'm done. I hope this was helpful they come in roses also (08/30/2005)

By katherine burke
Calla Lily centerpieces
I am having Calla Lily center pieces and making them myself in a single tall vase with with three lilies, all different heights, with some long stemmed grassed mixed in. Looks nice and simple and cost effective. (04/21/2006)

By
Calla Lily centerpieces
You can get a vase and put seashells in the bottom put a calla lily fill it up with water and put floating candles. You can put it on a mirror and on the mirror spread some seashells around (05/17/2006)

By Milly
Calla Lily centerpieces
If it were me, I would go to WalMart & buy a cheep but nice deep glass vase in the Craft Dept. & put the Lg. smooth River Rock in it. Fill it up with Moss (color of your choice ) on top of Rocks & let the Moss hang over the sides a draped effect. All of these things are at WalMart, maybe even Calla Lilies, if not you could try H/L craft store for them. (06/16/2006)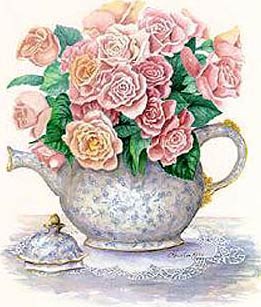 Calla Lily centerpieces
oop's forgot to mention my choice of the glass vase would be a Round one (06/16/2006)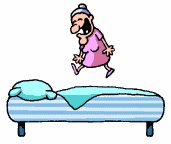 Calla Lily centerpieces
go to www.growersbox.com they offer whole sale calla lilies. (07/04/2006)

By
Calla Lily centerpieces
I am having my wedding in April 2007. We wanted Calla Lilies in the centerpieces as well. The ladies in the wedding are wearing a hydrangea color and I would like to incorporate that color as well as a soft sage color. We have a lot of children attending, so I want something elegant, but not going to be a fire hazard or glass shattering event. Please Help!!! (07/08/2006)

By Shannon
Calla Lily centerpieces
I saw on the Style network on TV a medium height clear cylinder vase with a single calla lily inside it held straight up using some sort of flower weight/clip. Then water was added to the vase. I am not sure if it was completely filled or halfway, but it looked gorgeous. I am going to try to do it for my wedding. Try the Style network website if they have one?
Good luck! (07/18/2006)

By Ericka
Calla Lily centerpieces
I'm not really an artistic person and I made some myself. I bought some vases, wire, oasis and calla Lilies and put them together. I´m sending a picture of what i made. The most difficult thing was to make the wire to hold the calla lilies, all the rest its really easy having the wire in place, it takes less than 5 minutes to put it together. (08/28/2006)

By Marie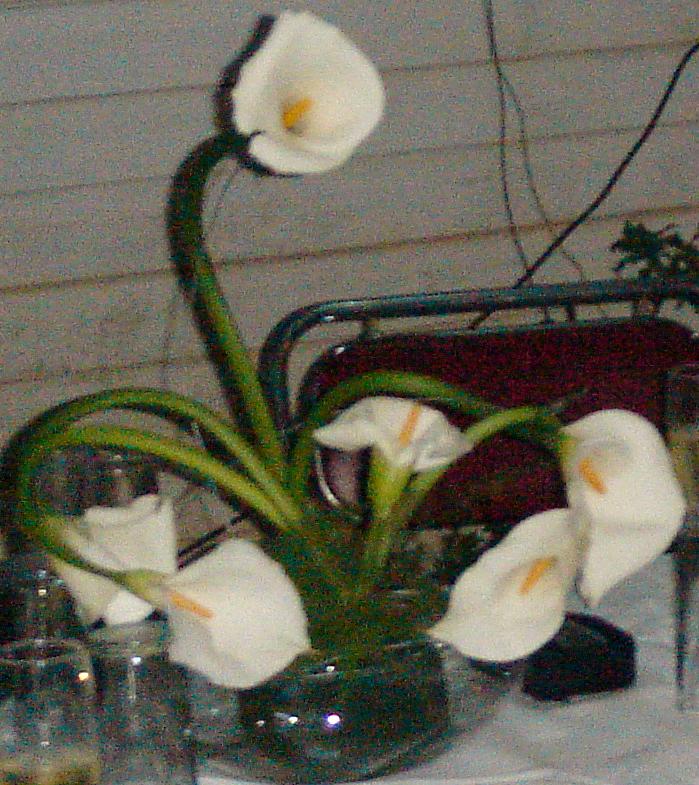 Calla Lily centerpieces
I am having the hardest time with my centerpieces because my idea is a little crazy. What I'm trying to do its to have a cylinder with the calla lilies under water but they float. So I need to know how to keep them steady. Can you guys help me?
(12/09/2006)

By daisy
Calla Lily centerpieces
I am also doing calla lily center pieces. I saw it on Design on a Dime. The calla lily is submerged underwater and it is anchored with a 'pin frog.' You can find pin frogs at any craft store, even Wal-mart. I think I am going to opt for fake calla lilies, because who is going to be touching them, it's underwater. I found natural looking calla lilies at Pat Catan's floral and craft store for a great price. To save money, my fiance and I tried anchoring the flower to the bottom on of vase with aquarium silicon. It works great. Let it cure for 24 hours... then fill the vase up with water. It works like magic. (02/13/2007)

By amanda
Calla Lily centerpieces
I also am getting married in August and calla lily is my theme. Believe it or not a lot of my wedding accessories came from stores off of Ebay. If you look on Ebay and type in calla lily , you would be surprised on how much stuff is available. You may bid on stuff for cheap or buy direct from their stores. Good luck with your wedding. Also if you Google calla lily stuff you can get ideas to make your own arrangements, or try some stores like Michael's, they have great ideas. Just shop around for calla lilies,because every store has a different price. Just a few suggestions. (02/13/2007)

By Shannon-lee
Calla Lily centerpieces
My wedding is on April 13th and I'm going to purchase my calla lilies from Sam's Club (the wholesale club) they have great deals and they deliver for free (03/09/2007)

By Diana
Calla Lily centerpieces
Here is a picture of the centerpieces I made for my wedding. It cost around $15 to make, very easy. They look really elegant while still being simple and not to bulky for the center of the table. That was a big concern. I have had a lot of compliments. Hope this gives anyone an idea.You may add different greenery and such. Centerpieces consists of sand, little rocks, a few shells in a square type vase, calla lilies twisted and pushed in vase with some greenery. (04/04/2007)

By Shannon-lee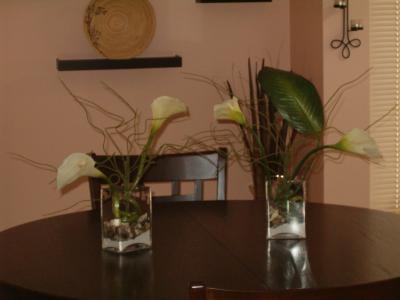 Calla Lily centerpieces
I just finished making lily centerpieces for a church Mother's Day Banquet. Get as many wooden paint stir sticks as you need for centerpieces. Cut off end that you hold, so it is a flat squared off stick/about 10 inches long. Paint w/craft paint (I used white) Go to wallpaper stores and ask for old wallpaper books that they are getting rid of. I got several free. If you want them all alike, you can buy a roll of wall paper. Cut paper into 10 by 10 inch squares , fold paper so both sides are showing pretty side. Make a fan with the folded paper. Hot glue, or staple bottom of fan in the middle to middle of stick. Open fan and hot glue to stick on each side. The stick makes the fan stand up. Now you have a fan on the flat stick. Get artificial lilies and hot glue one on each side of fan in center of stick. Arrange other flowers up and down the stick on each side of the lily. (small flowers) The lily in the middle is the main flower. Hope you don't think this is hard, because it goes really fast, once you get the hang of it. Good luck. Margeth (04/11/2007)

By Marjorie
Calla Lily centerpieces
I just finished decorating for a wedding using calla lilies. We bought tall vases at IKEA and put 5 lilies in each (we got them online wholesale) with greenery and tied a white tulle bow around each vase.(We also bought wine glasses at IKEA for 88 cents each! and had them hand painted as favors) (05/08/2007)

By Diane
Calla Lily centerpieces
Proflowers.com under the wedding section, talk to jessica (06/20/2007)

By Mila.
Calla Lily centerpieces
Here is another idea.....elegant and not too expensive to make ....really easy (07/28/2007)

By Shannon-lee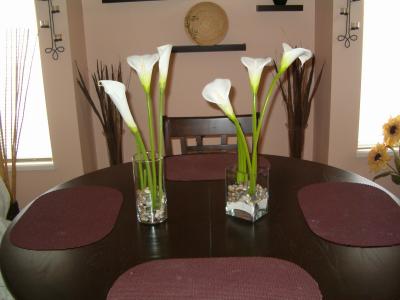 Calla Lily centerpieces
I like a smaller centerpiece, so get some small globe bowls, some silica sand and some clear stones. Put a small amount of sand on the cloth, mirror or whatever and put the bowl at an angle on the sand. Take three calla lilies(fresh or silk) and twist them around the iside of the bowl( in a spiral). Put water in the bowl to cover the cut ends if fresh or to just look pretty if silk. Lay the clear or colored stones around the area, maybe some silk leaves, anything to pull it together. You can float a small candle in the bowl also. Check your local $1 stores for the stones and even the bowls.
Good Luck (07/30/2007)

By Debbie
Calla Lily centerpieces
If you have not come up with anything yet, here are a couple ideas. You can currently get white calla lilies from Costco for $59.99 for 25 or $109.99 for 50!
Pick up some inexpensive large glass goldfish bowls from your local craft store such as Michaels, Hobby Lobby or even WalMart, and some river rock or glass marbles. Cut the stem of the lily to be about 3 times longer then the diameter of the bowl and spiral the lily in the bowl pour the river rock in the bottom of the bowl and fill with water. You will probably need to add some floral wire to the stem and bury it in the river rock to keep the stem in place.
You could also cut the stem of the lily to be 4 to 5 inches or so and cut a piece of floral wire about 4 to 5 inches long, stick it into the stem end of the lily about 2 inches, then bend the remaining wire at a 90 degree angle and place in the bottom of a tall cylinder vase, add river rock or glass marbles to hold the lily in place. Add water to the vase, to cover the lily. Add a floating candle to the top. Have 3 different heights of vases, for a little more elegance!
Good Luck (08/26/2007)

By jenn