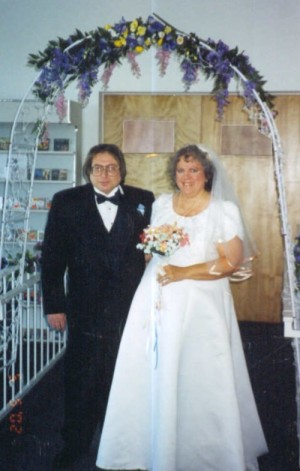 Nope that isn't a typo. In 2001, I drove from Washington to Arizona to help with my sisters re-vow. For many reasons, I kind of got stuck there and my job gave me lots of time to "brainstorm".
During that time, her husband lost his job and after Sept, not many people were in the mood to celebrate much of anything. That is when we need to the most. We picked May of 02 and planned it down to the last detail.
Her colors were pastel, which made it so much simpler to find what we wanted, and fun, too. So we had peach, pink, yellow, mint green, baby blue, and lavender.
I ended up doing it all but that is what she needed and what I do best, so we can start today with a couple basics. I am sorry is there are not as many photos as I would have liked to share with you.
Money was tight, so we came up with a plan to spend just $300.00. Now for most, that would be the dress budget alone, and a pretty plain one at that.
We found a dress at Goodwill for $50.00 and she loved it. Being a big gal, it was a challenge but it didn't take long to find her dream dress. It was "almost" perfect. The things that weren't were the neckline was for a bustier gal, and it had a few tiny little spots on it. Piece of cake.
I got some white faux pearls and un-waxed dental floss. Making a very good (and hidden) knot inside the neckline, I gathered the fabric as I used the pearls to "draw it up" as I went. I had to do it while it was on her so I didn't do work and then have to undo it.
The spots were less work, but just as "problem solving" as the other. I simply sewed a tiny pearlescent sequin on the spots, and randomly on the rest of the skirt, so it looked like they were supposed to be there. No one ever knew about either problem.
She wanted to keep the same veil as she had 25 years before. So I simply covered the headband with lace and used stitch witchery to "sew" a newer hem to it, using sateen seam binding, just trimmed in the back so it wouldn't show. Thank goodness for hot glue sticks being cheap. At one point, I used about 100 of them. So not counting the glue sticks, we were at about $50.00 and 50¢ for the lace.
The flowers were from Dollar Tree and bound with ribbon. Her nails came from there too, so we are about about $55.00.
So that is phase one. I will do the wedding in increments so you lovely readers don't get overwhelmed or worse, fall asleep!