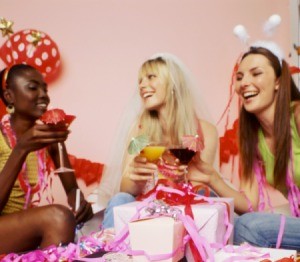 Is it proper etiquette to have a bridal shower for my daughter? She is getting married by the judge at the courthouse but having a big reception after her wedding?
By janice from Coldwater, MI
Answers

September 17, 2010
0

found this helpful
No you should not give her a shower. You have good intentions but it comes off looking self serving. Ask a close friend or other family member to do it. You can help with the planning and even pay for it if you want but don't throw it yourself.

Linda L.
Bronze Tip Medal for All Time! 64 Tips
September 17, 2010
0

found this helpful
Usually showers are given by friends or bridesmaids. Moms usually are not the ones giving a shower. If you are set on giving a shower please limit the guests to your friends who know you and your daughter.
Other friends or relatives will usually be invited to other showers, and inviting the same people to more than one shower gets pretty expensive for them.

susan
Silver Feedback Medal for All Time! 472 Feedbacks
September 19, 2010
0

found this helpful
Historically, ettiquette says that the mother of the bride should not throw a bridal shower for her daughter. But society is not the way it has historically been; the ecomomy is not what it has been; and family and friends do not live as close as they have in the past. Furthermore, proper ettiquette wasn't written for the global society we now live in, and cannot encompass the ethnic traditions of differing societies that now mingle. To top all of that off, families are smaller and no longer composed of a multitude of relatives to throw a shower; often there are no aunts, cousins and such.
Today, we live such separate lives that differing work hours, work travel, etc, makes others unable to plan much of anything. I see no difference with the mother paying and helping to plan, but pretendng to allow someone else to actually throw the event, and her doing it herself. As a society, we are changing traditions every day. This is a minor change, and one that should make no difference. I say to ignore tradition and do what works for you and your family. Good luck and God bless.

September 20, 2010
0

found this helpful
by: leekelly
I don't know about anyone else but my mother had my bridal shower at her house, and in the last 20 years I have not heard any comments that it was wrong for her to do.

Louise B.
Silver Feedback Medal for All Time! 337 Feedbacks
September 21, 2010
0

found this helpful
I think that some of these people have missed the point of your question, or perhaps I have, but I thought the point of the question was whether it was proper to give the shower even if your daughter was being married by a judge. And the answer to that is, of course it is. It doesn't matter what type of wedding, big, small, eloping, in Mexico, whatever, a shower is always proper.

September 23, 2010
0

found this helpful
I googled Emily Post:
www.emilypost.com/.../154-bridal-shower-dos-and-donts
I agree with her, if there is no wedding to watch skip the shower. However, I don't feel anyone is really going to say anything one way or the other.
I always worked it that if I purchased a gift for a shower, I skipped the gift for the wedding unless it was someone that I was really close to. That's my budget. :)
Answer

this Question