Where can I go to have a cheap but elegant wedding reception? I am very creative and I am willing to do all the decorating myself. I am also looking for a place available for short notice (May 2007), if we have to we will also provide our own food.

Colie from Green Bay, WI
Answers
December 7, 2006
0

found this helpful
Best Answer
We rented a gazebo at a small, local park. We were able to decorate it ourselves and have food delivered and set up as we wanted it. As it was a park, alcohol was not permitted, but we didn't mind this restriction at all. If you do have your reception outside, be sure to consider this when planning your menu and the timing of the cake being delivered. Nobody likes to eat "warm" shrimp cocktail, or have the flowers melting off of the cake!
Alicia.
By Deana. W (Guest Post)
June 28, 2008
0

found this helpful
Best Answer
I am planning our wedding as I write this. We have rented a quality park shelter for our wedding and reception at a reasonable price.
We can have it dawn to dusk at 110.00. Our ceremony will be outside with a arch I bought at Michaels for 9.99 and I went to Walmart for tulle, vining and Ribbon.
My reception will be Indoors mainly with the option of outdoor fun for any children. Indoor shelter is my rainy day back up.
I'm decorating from my local dollar store and Michaels. My colors are pastel blues and lavender. I've bought my tablecloths, plates, cups, plastic ware and anything that is workable from dollar store. At Michaels they have $1 bins and I picked up my ribbons. a lot of my flowers for .59 to .99 each. I made my own bouquet and found favors at Michaels in their clearance bins.
Go budget hunting and you'll be surprised what you can find. In 2 weeks I've spent a whole $50.00 on all my reception ideas using double heart and love as the theme.
We are burning CDs for our own ceremony music and dance music off our computer. Being this is not our first marriage we opted to be very thrifty but elegant and comfortable. Hope these ideas help some.
Answer

this Question

...
I am on a budget of like 4,000 for my wedding. I need a ceremony and reception still. I need everything. I'm the only one planning this and I am already overwhelmed mainly just because of the prices of everything. Can someone help me find something cheap, near Cambridge, MN or just Minneapolis?
By Jessica from MN
Answers
February 16, 2011
0

found this helpful
Best Answer
Jessica, I am an event planner and I can work with a shoestring budget. My daughters wedding had 75-100 guest and was under $5000. First when are you getting married? If warm weather consider renting a tent, just have finger foods at your reception and rather than open bar or champagne have a signature cocktail. Dresses are easily found on Ebay CHEAP! and go with in season flowers. I have a million ideas! Just ask me
February 16, 2011
0

found this helpful
Best Answer
I don't know if this will help you, but when I was faced with a similar situation, I made a decision to not spend any more money than necessary. My first marriage was a big, fancy event in a magnificent church. The marriage lasted 3 years. This time around, I baked the cake and a friend decorated it as her wedding gift to me.
My husband-to-be made the wine. None of our dishes matched. We gave the minister $40 for his brief involvement. We held it in the restaurant I was operating at the time, on the day it would normally be closed. You get the idea. We are looking forward to our 30th anniversary this coming October. I wouldn't change those memories for all the tea in China!
February 16, 2011
0

found this helpful
Best Answer
Hi there!
So I am somewhat in the same situation as you, except my wedding is dated far in advance and might get pushed back due to lack of funds, but I have been looking into how I can still have a dream wedding on a low budget.
Tip: Don't use real flowers. Whether it's for center pieces or bouquets, real flowers are a huge part of a wedding budget. Instead, look into creating fabric flowers or paper flowers. My sister has a shop on Etsy and is really great with making things so she is going to be making my bouquets and accessories. This will save a bunch!
Following my sisters footsteps:
My sister just got married this summer and she also was married once before (referring to a post below). The first marriage was very traditional. They had a church ceremony and rented out the VFW and she purchased a really nice dress. The second was low key but still very beautiful and actually more unique. The second time around she purchased her dress used from an online site like BravoBride.com and it was gorgeous. They had a private ceremony at 8am at the Como Zoo Conservatory. Early I know, but I think that has to do with not interfering with the Zoo opening up at 10am. Since their reception was at 8pm later that night, they had time to take photos throughout the zoo area. A friend of the family volunteered to take the photos and my other sister volunteered to photo-shop them. It ended up just being their wedding gift from them.
Since there was such a big time gap between the ceremony and the reception, people went to one or the other. I found this to be a good idea. Although it was a long day for those closest to the bride and groom, it seemed like people liked just going to the reception. Having a private ceremony made it a little more special and definitely less expensive.
They held the reception in their back yard. it was small but still beautiful. All the flowers and decorations were hand made by the bride and her friends, they rented tents, chairs, and a dance floor through a company that was set them up and took them down the next day. Instead of a big meal she had a friend, who does catering as a hobby, make orderves for the guests. They were awesome! They purchased several cases of "three buck chuck", which is a relatively inexpensive wine. They also offered specialty drinks and beer for the guests. They were able to do this because they saved so much by having the reception in the back yard. (most event places charge well over one hundred dollars for a keg of regular beer that is usually $40 to $50!) I had three of my guy friends come and bartend for the event. My sister paid them each $50 for the night. They were more than willing to do this and they had a blast!
The next day, friends and family helped clean up in the back yard and inside the house. It was a great event and we all had a blast.
If you are looking for something within a actual event center, try Profile Event Center on Washington avenue near the U of M campus. They have some good deals with lots included. Also, timing is a huge deal. You will notice big discounts for wedding during the winter vs spring, summer and fall.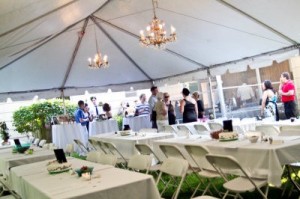 Answer

this Question

...
I have a big problem. I need help! Something of an emergency. We had to go into our wedding money so need to get a hall an to have the reception cheap! My coordinator is paid already. I heard about the fire dept. I need more ideas. Please help me.

Tasha

Answers:
Need a Cheap Place for Wedding Reception
You might want to check out your local Women's Club building in your city. My cousin is having her wedding reception there and all it cost is $100 for the entire day. Usually they have kitchens, so that should help. Hope this helps. (07/25/2005)

Need a Cheap Place for Wedding Reception
There are many organizations which have facilities you can rent for the day: VFW's, Mens Clubs which usually have kitchen facilities. Social clubs usually have facilities like Eagles Clubs, Irish or Portuguese clubs. If you call just one, and it's not appropriate for you, ask that person for recommendations.
Call your town hall and ask to speak to the first selectman's or mayor's assistant. Call the director of the Senior Citizen Center. They know much, or call the recreation director in your town.
Lots of resources are available to address this problem. I wish you a happy wedding day. (07/25/2005)

By Joan
Need a Cheap Place for Wedding Reception
I don't know where you live or in what season you will be holding the wedding, but lots of local parks have covered picnic areas that would work, and can be rented relatively cheaply.
If the wedding isn't very large, you could also have it at someone's home. (07/25/2005)

By Lynne
Need a Cheap Place for Wedding Reception
Check with your local parks and recreation dept, they may have ideas.
Also check the local churches, regardless of where the wedding is held. A lot of churches now have reception halls that they loan out for a donation.
If you use either of my ideas please be aware that you will need to line up a few people willing to clean up after all is said and done.
(07/25/2005)

By Jan
Need a Cheap Place for Wedding Reception
The feedback that I got was fantastic. My wedding is in May20 06. I postponed It since I was pulling my hair out.
This is a great site. I also went to a wedding this Saturday and guess what? It was at the woman's club. All the resources were great. Thank you all. (07/26/2005)

By Tashface
Need a Cheap Place for Wedding Reception
Check senior centers in your area, they usually have good sized buildings and the rental is usually very inexpensive. (07/26/2005)

By Barbie
Need a Cheap Place for Wedding Reception
For my wedding we held our reception at the County Fairgrounds, they usually have nice, big rooms. You will have to clean up at the end of the evening, so remember to ask a bunch of people to be your clean up crew. (07/31/2005)