By tracy (Guest Post)
June 26, 2007
0

found this helpful
Best Answer
Balloons are a really cheap way to bring fun to a hall. Fill the balloon and let them hang from the walls and celling. Make "trees" with them and tie together and put on the dance floor. Weight them down with potted plants. Use balloon arch over the cake table. Table runners in your colors are a great way to add to any hall. Chair swags and bows are cheap to make too.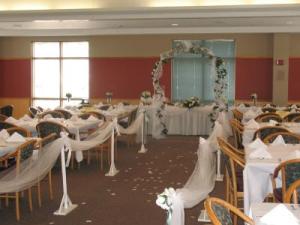 June 27, 2007
0

found this helpful
Best Answer
I think I would cover the things that make the room look gym-y. Balloon clusters and crepe paper could cover the basketball baskets. You could rent carpeting for the lines on the floor. Using dimmed lighting would cut the game-day glare.
Live music, if you can find a harpist or pianist, would make the huge difference. How about a slide show of the bride and groom's early days playing against one wall?
By Heather (Guest Post)
June 27, 2007
0

found this helpful
Best Answer
I was in your shoes not to long ago! My reception hall had bad lighting and the floors needed refinished. I know it's hard to stay on a budget, but sometimes if you rent a couple of eye-catching items, it can draw everyone's attention and all you need to supplement are simple table decorations. I rented a backlit lattice for the cake table and lights in toulle that hung from the ceiling. That made the reception hall. All I put on the tables were cylinder vases with a floating candle and a candle ring at the bottom. I bought all of that at a $1 store. If the gym can't raise the basketball goals just hang a little toulle and borrow some Christmas lights and you will have an elegant looking cascade to frame the room.

July 3, 2007
1

found this helpful
Best Answer
I've seen some beautiful lighting indoors with the "icicle" lights people use at Christmas time. I dont' know if there are poles you can string them to, or not.
Perhaps white miniature lights in artificial plants would work, too. All the best to you as you wed.
By Donna in Bloomfield, KY (Guest Post)
July 9, 2008
1

found this helpful
Best Answer
Use tobacco canvas that you can purchase at your local farm supply store. It is very inexpensive and can be a beautiful way to transform a large area like a gym. Use ivy and white Christmas lights with the canvas in a creative way and you will have a setting lovely enough for any formal gathering.

June 28, 2007
1

found this helpful
My friend had her wedding reception in her church's gym and she made it really beautiful by hanging four big pieces of tulle along with Christmas lights from a central spot on the high ceiling, draping the pieces down to each corner of the gym. I don't know if that description makes sense... it was really pretty because the draping of the tulle and the dim lighting of the Christmas lights softened the features of the gym.
You really forgot you were in a gym. It kind of made a canopy above the reception that covered the icky ceiling. I'll see if I can find a picture of something similar...
By denise w (Guest Post)
July 3, 2007
1

found this helpful
the easiest and cheapest way to cover ceiling is buy a few cheap helium tanks and the colors in your wedding for balloons and lots of ribbin to tie on them and fill the room with them. i agree with the spray painted branches cause they are free for the asking and you could add a few flowers to the branches attached to the walls and it would be awesone and use small tea candles all over the place for lighting alng with xmas lights thruout the branches. and use a focus table either the head table or the cake table in the middle of the room to focus people to look to the middle rather than the walls.i made choclate covered strawberries and put on scures and added foliage to a vase and this was my edible center peice on each table along with the tea lights i wrote my and my hubbies name on candle holders in gold and the date and this was the favors and so on. it will be get dont worry congrads
By Becky B. (Guest Post)
July 16, 2007
0

found this helpful
To keep lattice from toppling, we hinge two pieces together and set them up where they don't open completely, making a "V". We also attach fabric or bulletin board paper in the wedding colors to the back of the lattice for a nice effect. You can also shine a spot light to the back of the panels so the fabric glows from the front.
My son and his fiancee will soon be getting married and their reception will also be in a gym. The above suggestions are great. I was wondering, though, if anybody had a suggestion about making an inexpensive gazebo structure for the center of them to showcase the brides table.
By carolyn (Guest Post)
March 15, 2008
1

found this helpful
I am planning my second daughter's wedding, too. It will be held in a church gym also. With my first daughter's wedding I did the white Christmas lights and tulle and balloons, gazebo and lattice and made a tulle canopy over the center of the gym which was over the gazebo with the cake in it. It was beautiful.
My second daughter wants nothing like her sister's decorations. I want to cover a rectangular gym ceiling with white fabric. I want it to drape in folds from a center wire or pipe the length of the gym (60 ft) out to the walls.
Any ideas on what we could use to support all the fabric so it will not fall down on our guests? We have been thinking about PVC pipe, wire, wood beam, but we want the least amount of marks left on the walls as possible. I already have the fabric and it is much heavier than the tulle. It was free so I couldn't turn it down.
Also, if you have seen a picture on the web that shows this, I would appreciate you sharing this with me.

October 23, 2016
1

found this helpful
Best Answer
Cover a hula hoop in white satin ribbon. Then attach the lights all around the hoop. The hoop could be hung from wire, attached to whatever is available in the ceiling, like rafters. You lower it to the height you need. It's light weight and is big enough to give you lots of strands and/or strings of light. A halo effect. It'll be beautiful.
By adh (Guest Post)
November 21, 2008
0

found this helpful
Well, I'm not sure about the decorating, I myself am trying to wrap my head around that for my own wedding but my fiance loves basketball so I was considering letting everyone take a shot if they make it we have to kiss or do something silly. I'm not sure which way I'm going with that yet but I'm leaning more towards silly.
By Billie (Guest Post)
November 26, 2008
0

found this helpful
CAUTION- Depending on the type of sprinkler and fire alarm system, helium balloons floating along a ceiling can be "seen" as smoke and trigger an alarm - or worse- the sprinklers. Ask the facility manager before you begin.

June 2, 2009
1

found this helpful
For brides in Utah and Washington you need to check out cindyrellaweddings.com Unbelievable decor at a great price!