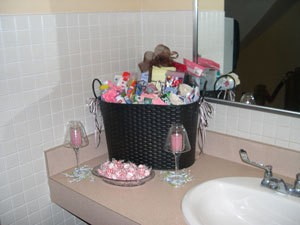 This is a ladies toiletry basket that I made for my daughter's wedding back in September. She was married at Castle in the Clouds in New Hampshire. So, with a castle setting, I chose a brown tin large oval planter in place of a basket. It gave it a more medieval look to it.
I filled the bottom of the tin with potpourri and went out to a Dollar store and bought all sorts of sample items such as; hair spray, lots of individual packets of Kleenex, $1.00 pantyhose in a few sizes, hand creams, chewing gum, Life Savers, wrapped candies, Tic Tacs, tampons, mini pads, $1.00 nail polish, a box of nail polish remover pads (12 ct.), glue for acrylic nails, room freshener, a very small sized sewing kit, safety pins, and many other items.
As you can see the basket was overfilled. And it was a very inexpensive project to make. And it made a lovely display in the ladies rest room. Everyone at the wedding was so impressed by this act of kindness to our guests. Women are always in need of these little items. It is a treat if you can supply this and make it decorative too. I really had fun doing thrifty little projects for her wedding.
By Jackie from Norton, MA
Comments
By Margaret (Guest Post)
March 23, 2007
0

found this helpful
What a thoughtful person you are! Looks great!
Margaret
March 23, 2007
0

found this helpful
This is a great idea for a guest bathroom, too.
March 23, 2007
0

found this helpful
THis is awesome! What a wonderful thing to do for your daughters guests.
April 3, 2007
0

found this helpful
Looks great, it's a wonderful idea but it probably ended up costing $50-$100. Dollar stuff ads up fast!
Read More Comments