In 2008, a series of events were brought to our family. Our oldest daughter decided she wanted to get married in October (the month and day they met). So, that was one wedding. Then, the next wedding was for my step-daughter in May. After that, my middle daughter got married in August of 2009. So that was 3 weddings within 10 months.
Being frugal has always been a priority to me. I knew we couldn't afford any of these weddings, but we'd do what we could. Fortunately, we did pretty good with two of the weddings but the second one was awesome.
She decided on a Spring wedding and I had enough notice for us to begin the big hunt for all the proper things. I decided to jot down what we spent in a notebook to keep track of it. Never ever did I ever think her wedding would only cost us $733.94.
The trick to this was there was enough time to find the items, make what we needed, and we were able to shop all the winter sales for the best possible prices. Winter is usually not the biggest wedding month, so that gave us even more of a chance to get everything she wanted without coming away broke.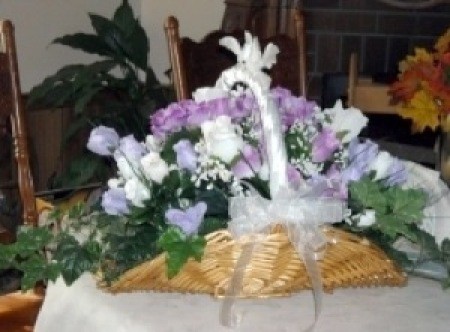 Here is a list of the things we used the $733.94 to buy:
her dress
veil
shoes
jewelry
flowers (bouquets, boutineers, mother's and grandmother's corsages and 3 huge centerpieces)
favors
invitations
stamps
centerpieces
garters
gifts for the wedding party
wedding cake topper
ring bearers pillow
flower girl baskets and petals
personalized ribbons
personalized cake server
knife set and champagne glasses
his shoes and suit
decorations outside and inside
champagne glasses for the guests
the fee for the pastor
The manor she got married at was a wedding gift from one of the managers. The food was bought by them but it was only about $50.00 for a full banquet (simple but sweet). The cake was also a wedding gift.
If you already have a date in mind for your wedding, try to buy your items ahead of time and during the off season. Making the favors and other small items is very beneficial. I am going to put in a precaution here - do your homework. If something is cheaper to buy, then don't make it.
As I sit back and think over all of the frugal things I have done in my life I think when it comes down to money, these were the best deals we could ever find.
By gem from VA
Do you have a frugal story to share with the ThriftyFun community? Submit your essay here: http://www.thriftyfun.com/post_myfrugallife.ldml