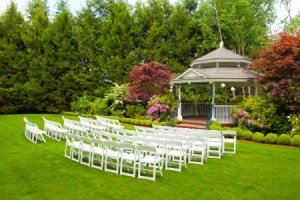 My wedding is in June 2, 2012 and I'm trying to find a place with flowers and water for the ceremony. I don't know what I need to do the wedding. I know I need food, bride, groom, table, wedding dress, and tuxes. I need help to know what else I need.
By Denise from Chattanooga, TN
Answers

Joan
Bronze Feedback Medal for All Time! 186 Feedbacks
April 11, 2011
0

found this helpful
Best Answer
The things that you need will depend on you and the prospective groom. There should be parks in your area that has flowers and possibably even a water feature. Having the wedding in a park means that if you are going to have the reception there you could have a bar-be-que or pot-luck instead of a fancy sit down dinner, potato salad, pasta salad, cole slaw. A lot of people in SD are doing things like that. Most nicer parks do have some shelters with electrical hook ups. If you would have a park shelter, you could use balloons tied to the supports of the shelter, to take away from the bare look. For more food ideas, get a couple people you know to make fancy sandwiches and have chips, relish trays, cake, punch, coffee, tea, punch.
You can also buy tulle fabric quite cheaply and you could use a staple gun to staple it in kind of drapey fashion around the shelter. If you want to use a park, you should get busy and research the parks in your area, and if you find one reserve it right away because where I live the parks are reserved up to a year or mord in advance. Another solution would be if you know some body that has a home on a lake or river that you could have the wedding in their yard, and if there isn't flowers there, you can always rent an arch shaped trellis that you coule weave silk flowers through the opening.

April 12, 2011
0

found this helpful
Best Answer
Never underestimate the things you can find at a Goodwill or Salvation Army. A lot of times brides will donate their table decorations like those little bowls and hurricane lamps to these places. Also, my husband and I got married at the rose garden at our local park. I don't know if you have anything like that but it was perfect. Table decorations, since you're on a budget, by those tea light candle bowls. decorate them with your colors and fill them with silver wrapped Hershey kisses.
You can go to any fabric store and shop the bargain bin for cloth to cover your table. If it's windy, use double sided tape to hold your covers down or you can use something called Dots, they are a little heavier and you can buy them at Hobby Lobby. Go to your Dollar Store for your flowers. You would be amazed at what you can find there. I know what it's like to operate on a very small budget and every penny counts. Hope this helps. And congratulations.

April 12, 2011
0

found this helpful
Best Answer
I would try afloral.com for flowers and invitationland.com offers some free invitations. All you have to do is add you information and buy some cardstock. Cardstock is usually about $5 for a 100 pages of white cardstock - up to 4 invites per page. Also go for a pic nic feel. Simply get a sample of rolls, maybe from your local bread store, display them in a turned over pic nic basket add a spiral ham (whick if you have freezer room you can buy one here and one there in advance), ask someone to make cole slaw or salad, potato saled or pasta salad. Maybe some chicken salad for the none ham eating guests and I think you'll have a real hit! We did a gallon jug with sweet tea and one with lemonade then a large metal wash tub with some bottle water with our pic nic.
Cakes can be a lot less expensive by buying white round cakes at your local grocery store and rent a floating cake stand to display them. You can check out places like overstock.com and smartbargins.com for a white dress...I got my wedding dress for $50 from here. We used pringles cans wrapped in scrapbook paper and ribbon for reception table decorations. We added the flowers that the ladies used during the wedding. I made an assortment of homemade cookies for favors in large glass jars and paper bags for the guest to take them in. This was a really inexpensive solution.
Try a Mary Kay person for makeup, they'll usually come to you and do the makeup for free if you'll purchase one item. Don't forget photography. We found and awesome student of photography to do ours and were very happy. For centerpieces we used oil lanterns which you maybe able to borrow something like that from family and friends. Hope it all goes well. Good luck!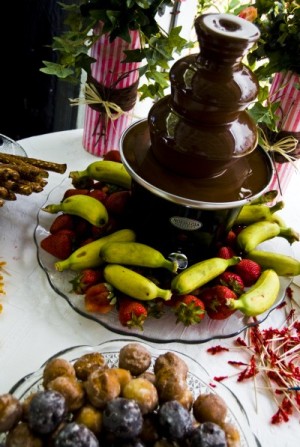 Answer

this Question