By Andi (Guest Post)
September 10, 2008
0

found this helpful
Awesome ideas! I too had a beautiful wedding and it cost less than a $1,000. I think it is crazy to spend thousands of dollars on a wedding when you can make it special and memorable for so much less. I look back on my day and remember how beautiful it was and it makes me happy too that we didn't go into debt.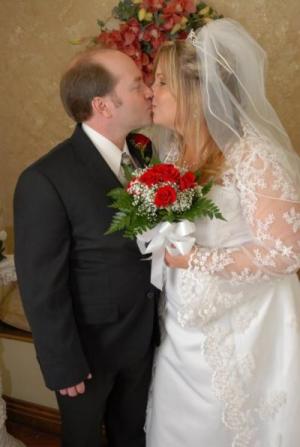 By Judy (Guest Post)
September 10, 2008
0

found this helpful
If I asked people to provide food or take photos, I would insist that the service they provided would be in lieu of a wedding gift.
This is an excellent way to stay in your budget.

Grandma J
Silver Feedback Medal for All Time! 270 Feedbacks
September 10, 2008
0

found this helpful
First son got married a couple years ago. We used all sorts of tips to cut costs. August wedding allowed us to grow as many flowers in the garden as possible. I planted wild flowers every 3 weeks. We had 25 large vases of beautiful flowers. Bride had her own bouquet family made. Watched sales and half price coupons for JoAnns and Michaels to use for all things.
Junior bridesmaid--price of her dress was terrible for the size, regular size on sale. Found the same fabric at JoAnns and waited till on 50% sale, got many many yards. Used excess for decorating. Also used Bridal illusion by the yards for decorating too. Church was decorated for the season (Aug) by the church so we did nothing there. Reception was decorated--Wrapped that all up and put in the closet for the next wedding to borrow.
They chose their color, I went to local churches who discard left over candles from events, weddings, most hardly used. I took them, melted down and created all new candles to be used in their chosen color. This took time but I made over 100 new lavender-pearled candles. All ingredients were free. Molds borrowed and garage sale pickups.
Mom of the flowergirl sewed identical to brides' dress, able to watch same sales, etc and get minimal cost in the dress. "Found" baskets and other supplies from people. Bubbles labels designed and printed off on sticky labels--neighbor kids colored them.
For photos. A gal who loves to take photos, was not a "trained" photographer, so we bought the films, she took the shots all day and gave us the film to process. Each side of the family ordered what they wanted, paid for their orders.
I do volunteer church and community events in photographer, videographer, computer graphics work and volunterism, so I called in freebie favors from friends who also ran the equipment, 16 yr old HS friend was a budding organist (totally now unaffordable and in high demand), helped with groom's supper (potluck by most of us), etcs.
Hired Pork Producers organization to grill the meat for the supper--mostly friends and we paid for actual supplies.
We made our own wedding invitations--not the first time I have "helped someone do theirs" so we had lots of ideas and established for 6 weeks ($8 total cost) a toll free number for our house/answering machine to RSVP rather than send out 2nd cards/postage. Would be costly at 250 invitations. Some use a website to RSVP but those without computers would not be able to use. A phone line can be accessed by everyone. Each family took their own of how many invitations they needed, finished them up and mailed them out.
Full dinner served was by a family friend who had a catering service Mom of bride helped when necessary. We had full hot meal with plenty of left overs for the next day family gathering of gift openings. Wait staff was friends of the bride. Alcohol beverages handled by adult staff of the place we had it. Oh, mom of bride also helped them out when short so no cost for the venue, band.
Wedding programs, thank yous, etc all done on my computer, paper & envelopes bought in bulk from printing company. They printed at less than a penny per item. They had no set up fees as I had it all camera ready to print. We included their photos, etc on their programs, thank yous, decorations, etc.
Hope this helps someone in addition to the info above.
Our next wedding is in May 2010. Friday night wedding made the venue half price (in a large city) and again, bride got her dress at a bridal shoppe forclosure sale for $100. I may get to wear my dress (neutral, simple long queen anne's lace bodice, plain bottom) from the first son's wedding (if it fits or have it remodeled and updated).
Groom and bride planning and paying as they go along so that helps too.
By Celia (Guest Post)
September 10, 2008
0

found this helpful
I don't see any mention of the officiant here; the ceremony is the reason for the day, and sets the tone for the entire celebration.
Your officiant, ideally, is a trained professional, and will be expecting to be paid as such; unless you have an ongoing relationship with your family pastor (and even if you do) you should expect that this will cost 300.-700.00. It is worth every cent.
By Virginia (Guest Post)
September 11, 2008
0

found this helpful
Great Job. I spent $600 on our wedding. I borrowed the dress from my sister. I made all the flowers my self. The wedding was at the church. The reciption was at a lodge I belong to NO CHARGE. I got my decorations from Oriental Trader and Dollar Tree. We had party favors. Pencil with our names and Wed Date, Bubbles and Candy. The food was Lazana. $10 a pan about 12 pans. Rolls from Golden Corral. Salad. Small wedding cake with other cakes and pies to go with it. I bought a Dance Party CD and a friend acted as DJ. I had another friend do the pictures. As gift to all who were in the wedding i gave Movie tickets. A friend played the paino for us at church. The maid of honor got her dress at thrift store and the flower girls got pretty pink dresses at Walmart. We had around 50 people at our wedding. I was very pleased with it.

September 11, 2008
0

found this helpful
My youngest son and his wife got married on a beach. They put a large wooden cross in the ground and people sat on blankets. Family brought food for the reception afterwards in the pavilion (beans, potato chips, watermelon, buns). My other son barbecued hot dogs. My daughter in law had a simple dress and my son and those who stood up had Hawaiian shirts (the grooms man's gift) and black Burmuda shorts and the ladies simple Hawaii dresses (their bride's maids gifts). The most expensive was the cost of flying the family to the wedding and putting them up in motels (which they didn't pay). The pastor's received a thank you gift from the groom's parents. I think that is important to show appreciation, but with us it was much more special because the minister had been instrumental in bringing her to a living relationship with Christ.
By Amandablue (Guest Post)
September 12, 2008
0

found this helpful
What a beautiful picture of the bride and groom! I wish you many years of happiness!
So often the wedding costs a small fortune, the food is awful at times et.
The day should be about the couple, and not a Hollywood production.
I had one nephew remark he always bought the wedding gift based on the cost of what was being served for food choices, and if there was an open bar!
In the end the couple pay far more out of pocket, then they receive in gifts.
Starting out is never easy, and who needs all that debt?
One of the most beautiful weddings we attended was in Salem, MA. Even the rooms were paid for, as well as extra meals. Sadly the couple divorced several years later.

September 27, 2008
0

found this helpful
After reading through this again, I did notice that I left a few things out.
Officiant - If you have someone in your family who is a pastor, by all measn use them. My Father-In-Law married us at his church so it cost us nothing.
Wedding Cake - if you know someone who decorates cakes as a hobby or as a profession, ask them if they would be willing to make your cake for you. Usually friends or family will either give you a discounted price, or provide the cake in lieu of a gift.
Attire for Wedding Party - Give them the chance to choose their own outfits. You can give them a color swatch so that they have the same color, but then let them buy their own. This way your bridesmaids/maid of honor/flower girls, etc, can pick a dress that they will want to wear again. For the guys, you can do a simple suit & tie.
Whenever you ask someone to provide food, take the photos, make your wedding cake, officiate the wedding, etc...always make sure that they know that this is in lieu of a wedding gift. That way if they chose to get you a gift, it is their choice to do so & you are not asking them for both.
By (Guest Post)
October 7, 2008
0

found this helpful
My friend's brother got married to someone from Romania and the Romanian custom is to give money instead of gifts--this pays for the cost of the wedding. I think asking for your guests to give cash (not having a registry) is a good way to mitigate costs. In order to keep it from being tacky, explain your wishes in a tasteful way on the invitation and ask people to donate to the wedding...that way they are giving you the gift of the wedding day instead of the useless toaster.

May 10, 2009
0

found this helpful
Congrats on your wedding and being frugal with it too. I am sorry to hear of your situation that required that low of a figure, but be assured it isn't the lowest mine came at the worst time in my financial life, and cost only $150.00 for us to pay, as my parents paid for the officiant, the site, and my fiance' borrowed the money for our rings. Everyone chipped in to make our day special, as I am sure your friends and family did too. Congrats again, and I hope you have a long healthy life together :).