We are planning a commitment ceremony (lesbian wedding),in the D.C. area for April of 2007. We are trying to stay under $10,000 for everything (ceremony, reception, flowers, catering, decorations, gown, location, etc.).

Please help.
Tina from Washington, DC

Answers:
Planning a Commitment Ceremony
Why don't you plan a vacation up to Canada and get legally married?
$10K US will get you much further here, wedding planners would be very happy to help you.
Just a thought. Best wishes to both of you.

D. in Nova Scotia (12/10/2005)

By Doreen
Planning a Commitment Ceremony
If you can get legally married in Canada, I would do that, then have the commitment ceremony and reception back in DC. for family and friends. My daughter bought her wedding gown from eBay. It's hard to see here, but the bodice was covered in beads and it was beautiful. The flowers were from a local grocery chain (Kroger). They made the bouquet and flowers for the men and women. The reception was luau style with decorations from the outlet card store and the stores where everything is $1.00. The food was buffet style with ham, BBQ meatballs and wieners, cheese, fruit, salad, etc., that family and friends fixed. The wedding cake was made by someone who worked in the bakery at the local grocery chain. The reception was held in the VFW because we had a veteran in the family and he could rent the place for $25.00. The bar was available for anyone who wanted alcohol, but they had to pay for it themselves. That cut down on the drunks and the cost. If you know anyone in a club or organization that could rent their facilities for you, you could save a lot. (Knights of Columbus, Lions Club, Veterans Organizations, etc.) Good luck and best wishes. (12/11/2005)

By Terri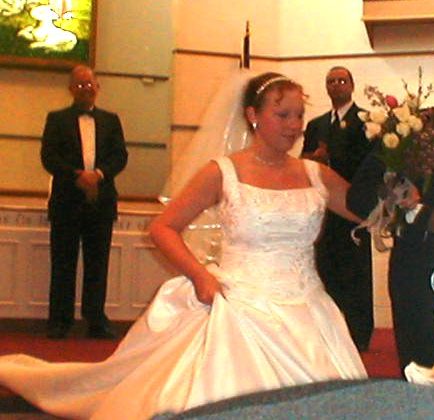 Planning a Commitment Ceremony
Does your local library have books on flower arranging and decorating for special occasions? These are free and usually full of great ideas and advice. Gowns, can either of you sew or know of somebody willing to lend a sewing machine to you? Food, we have TAFE here (it's a technical college, not university) and they have hospitality students that you can sometimes acquire "cheaply" as wait-staff and cooks. Do you have something similar ? A friend recently married in her friend's backyard, all decorated and beautifully done by themselves with fairy lights; tulle; and lots of fabric bows, etc. It truly looked wonderful and cost next to nothing (most stuff sourced at local Goodwill shops). It can be done cheaply and stylishly, just think outside the square and be prepared to DIY a fair bit.
Best wishes to you both and good luck! (12/12/2005)

By KB in Australia
Planning a Commitment Ceremony
Ten grand sounds like a lot of money. If you follow Mckaysatt's advice, you should have some left over. Also, think about not using a professional photographer on the day and pass out disposable cameras to attendees. They can get candid snaps of the ceremony and reception. If you also want a more formal, commemorative shot, you can go to a photo studio (even Sears/Penney's, etc.) and have a few posed shots of you two in your ceremony "duds". Best wishes for a lovely event and a happy life together. (12/12/2005)

By Claudia - MD
Planning a Commitment Ceremony
Congratulations to you guys! Civil Partnerships have just become legal in the UK (what is this? - Victorian Era!) Me and my husband got married in April and didn't have a professional photographer. It saved us a fortune and everyone loved not being bossed around by a random stranger. We made all the invites ourselves, table decorations, and the cake. We had karaoke, so even made the entertainment ourselves. Our biggest saving was having a barbecue in the evening, with the best people ever. It was ace! The whole shebang cost around 3000 pounds, what's that in dollars?, about $5000, that included outfits. (rented of course) Good luck to you both, sincerely. Keep an eye on ThriftyFun, I got ideas for cootie catchers and wedding favours, even had an idea about decorating the cake from this little gem, if you need an e-hand give us a shout.
Julie in London x (12/19/2005)

By Julie
Planning a Commitment Ceremony
Congrats! When hubby and I married, I did it without going broke. We had lots of $$ money to spend on honeymoon. Our photos were great we married on Valentines Day and went to a bar later
and got pictures in the booth they had set up for $5.00 dollars had professional photos. Plus we had
several people take photos and had a video of service by a friend, wonderful. Saved big $$, then we
got married outside in a local park overlooking the ocean, gorgeous and free. It was a Spanish mission, so the backdrop was gorgeous, too. Then we had a champagne cake reception with lots of finger snacks, champagne and beer and cake. It was great and without thinking too much saved so much money, as my parents gave me set amount and told me it was up to me so I used little of that and saved it for honeymoon and it was the best. Oh, still married 10 years later and remember some days or years are longer than others.
Much happiness in your new lives. (12/22/2005)