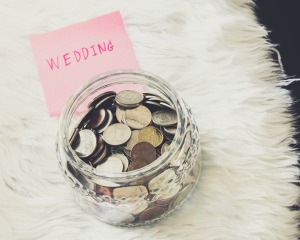 With the 9/9/09 wedding day drawing ever nearer, I have decided that I want to spend no more than $500 on the whole thing. I have tailored down some ideas to create a great party while saving some extra money in the bank.
I ordered my dress through eBay. My dress is not a traditional wedding dress, it is a Renaissance-style "dusty rose"-colored dress that cost me $70. With my hair being done by a friend of mine and sandals that I already own upon my feet, the wardrobe is ready.
The wedding itself falls on a Wednesday. My fiancee and I are going to get married in the judge's chambers here in town. The total cost of the marriage license and the fee of the judge is less than that of a minister or rabbi, and since we both are from different religions, the justice of the peace will be the tie-breaker.
The reception will be held at our apartment complex's community party room. For less than $100, we can rent a room that will fit 35 people. That was the biggest money-saver of all!
As cliched as it sounds, we really are only inviting immediate family members and close friends. The guest list has been pared down to 35 people at a maximum, and most of those people are kids under the age of 5! I try to avoid talking about the wedding at work because I have several "work" friends and my budget simply cannot afford an extra 14 people!
Food is another issue. The first idea I had was to have a Thanksgiving dinner, but early September in Nebraska is no time to be keeping the ovens running for several hours at a time to bake some turkeys! The next idea I had was grilled burgers and hot dogs, but then the question arose about how to safely keep them warm.
Finally, the commercials sank through my thick skull and I realized that everyone likes Subway sandwiches. A great deal they offer is the party platter, which is 7 subs of any type cut into thirds. They then include all of the vegetables, sauces, etc., on the side at no extra charge. I figured that with 35 people, 1 or 2 party platters supplemented with potato salad, coleslaw, a raw vegetable platter, and potato chips will feed the lot of them.
For beverages, I am offering one keg of beer, soda, and kool-aid for the kids. The "special helpers" (i.e. the friend who is doing my hair and another who will be helping with food) will get their own special drinks but I have told others that if they want something else they will have to bring it themselves.
Finally, the total budget amount came out to be around $400. At age 24, I have the rest of my life with this man to have an expensive fairy-tale wedding but because I am only 24, I am blissfully naive enough to know that I don't need an expensive fairy-tale wedding to be happy.
By Jenni from Lincoln, NE
Comments
Read More

Comments