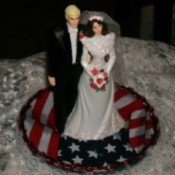 This is another one of my latest projects for a soon to be bride whose fiance is in the Army here in Georgia. She asked me to make her wedding colors of red, white and blue for her cake topper. My base starts with a recycled CD that would normally be thrown away, so I recycle them.
The bride was thrilled when I sent her the pictures. She also needed the groom's hair on this cake topper to be blonde, so I got out my acrylic paints and changed it for her. I painted the roses of her bouquet too.
By Myra from Allenhurst, GA
I had a thought about a cake topper. It was a man sitting in a chair with a tux on and a PS3 controller in his hands and a TV in front of him saying "game over". He had his jaw dropped and the bride was standing behind him in a wedding dress with her arms crossed (mad). Where can I get someone to could create that for me?
By tiffany from Moberly, MO
Answers
June 26, 2009
0

found this helpful
Glad to see im not the only woman with a man having an affair with a PS3 hahaha. Im sorry i couldnt help with your request, but I know the feeling!
June 27, 2009
0

found this helpful
Could you take a photo of your fiance playing the game and someone take a photo of you with your arms crossed. Blow them up a bit and make a paper doll sort of image? The pics don't have to be 3-D. They could lay flat. Photos can be transferred onto the cake as well. If you want the jaw dropped/tux. You either have to fill him in or find a body double. :)
June 27, 2009
0

found this helpful
Hmm, interesting idea, lol! You didn't say if you wanted a 3D topper, so I'll presume you do. For an edible topper, you might want to visit a small-business baker or confectioner (candy maker.) For a non-edible topper, I'd recommend you try a local artist.
You can use "live-action modeling," photography or a drawing to help convey what you want, whatever works best. Be prepared to pay a bit extra for a custom-made topper, though, whatever route you take.
Best to you on your wedding! JustPlainJo, Ohio
June 27, 2009
0

found this helpful
Etsy.com has polymer clay artists. Maybe one could do it, but be prepared to pay for an artist's creation.
Answer

this Question

...
Does anyone have any frugal, creative ideas for making a wedding cake topper? The bride is a nurse, the groom is a fire fighter and there will be 3 children in their new family.

Thrifty Readers: put your thinking caps on.
Thanks a bunch.

Lee-Ann

Answers:
Homemade Wedding Cake Topper Ideas
I think fresh flowers in colors you like would make a nice topper. I did this for my parents 50th anniversary using yellow Carnations and it looked lovely. (02/07/2005)
By Vcor
Homemade Wedding Cake Topper Ideas
My idea is one that I used on my parents' 50th wedding anniversary cake, but it would work for a wedding cake. We made an arrangement of silk roses and Baby's Breath, and attached it to a small margarine tub lid. It fit perfectly on the top tier of their cake. (02/07/2005)

Homemade Wedding Cake Topper Ideas
Make a small nosegay of Nasturtiums purchased or home grown (they grow very well) with ribbon matching the wedding colors to top the cake, and sprinkle loose ones all over the cake and cake table, gorgeous and edible. (02/07/2005)

By aud
Homemade Wedding Cake Topper Ideas
How about using the symbols you get on most packaging (and get post-modern in the process) you could illustrate first aid, fire, and children with simple icons. It might look quite cool. Good luck. (02/07/2005)
By Julie
Homemade Wedding Cake Topper Ideas
I was thinking 3-d figurines or maybe a drawing: a tree, 2 children hanging from a branch, one child on the grass below, nurse bandaging knee of fallen one. Firefighter climbing ladder to get the other two down.
Neat ideas on http://www.imaginativeicing.co.uk
(02/07/2005)

By guest
Homemade Wedding Cake Topper Ideas
If you had an image in your head you wanted to try making, you could do it yourself with salt dough (salt, flour, glue, and water). Maybe a "sexy" nurse standing next to fireman looking at her. His hat could be on fire and she's trying to put it out with his hose. (02/07/2005)

By maskommand01
Homemade Wedding Cake Topper Ideas
How about a framed picture of the entire family? You could then place some fresh or silk flowers or curled ribbon around the base or silk ivy depending on their colors or theme. I am going to do this for our wedding in October of this year, but we are using a Tuscan/Italian theme. I have some glass grapes to place on the top around the photograph (black and white) and silk grapevines around the base. (03/13/2005)

By Tara
Homemade Wedding Cake Topper Ideas
Find small hats. One a nurse's, one a fire helmet. Set both on the top layer. Put something that symbolizes the kids on the lower layers.
(07/21/2005)

By Elaine
Homemade Wedding Cake Topper Ideas
Check out http://www.jwcaketops.com/. They have a nurse and firefighter. Good luck. I am looking for the one like on Ladder 49. (03/21/2006)

By LeAnne
Homemade Wedding Cake Topper Ideas
I got this real pretty wedding cake topper from online at Personal Creation for only $17.00.
(01/22/2009)

By Karen Foiles
Homemade Wedding Cake Topper Ideas
Another idea I had was I bought these real big white bows from the dollar store and then tie 4 charms with all of our kids names names on them on the end of it. (01/22/2009)

By Karen Foiles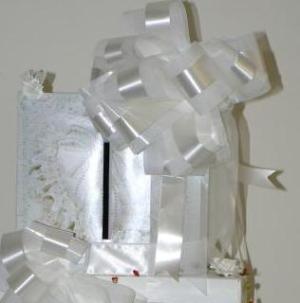 Homemade Wedding Cake Topper Ideas
I found a 16" tall statuette at Ross for $7. I will set it on the table, with three cakes on platforms behind and around it. The statue is of a man and woman holding each other, very abstract and stunning. With all the attention on the statue, the cakes will be kept very simple, just white icing with beading for boarders. I am making these cakes. Total cost for cakes, stands and topper should be around $40.
Hope this helped. (02/12/2009)

By Jessica